Thinking about a surf trip to Bali?
If so, there are 2 important questions to ask yourself before going:
1- Where should you go in Bali?
2- When should you go to Bali?
To answer the first question: we chose the south of Bali, the Bukit Peninsula for very good reasons. For 8 or 9 months each year we are surrounded by Bali's best waves; not just for expert surfers, but also for intermediate surfers and also for people who have never surfed before. We are located in the surf town of Bingin, with surf spots like Bingin, Impossibles, Dreamland, and Padang all within walking or paddling distance from our surf retreat.
WHEN TO GO TO BALI: THE BALI SURF SEASONS
Intro:
Bali has 2 distinct seasons;
The Bali Dry Season, which runs between the middle of March and End of November
The Bali Wet Season, which runs between December and the middle of March
Now, the rain doesn't really affect the surf, you are going to get wet anyway, but with the different seasons comes a different wind pattern.
THE DRY SURF SEASON IN BALI
Between the middle/end of March and early December falls Bali's dry season. During the dry season, there really is very little rain, especially in the south part of Bali, where we are located. We will usually get fewer than 5 days of rain over an 8/9 month period.
During this time the wind pattern is from East to West which creates perfect 'offshore' surfing conditions on the west side of the island.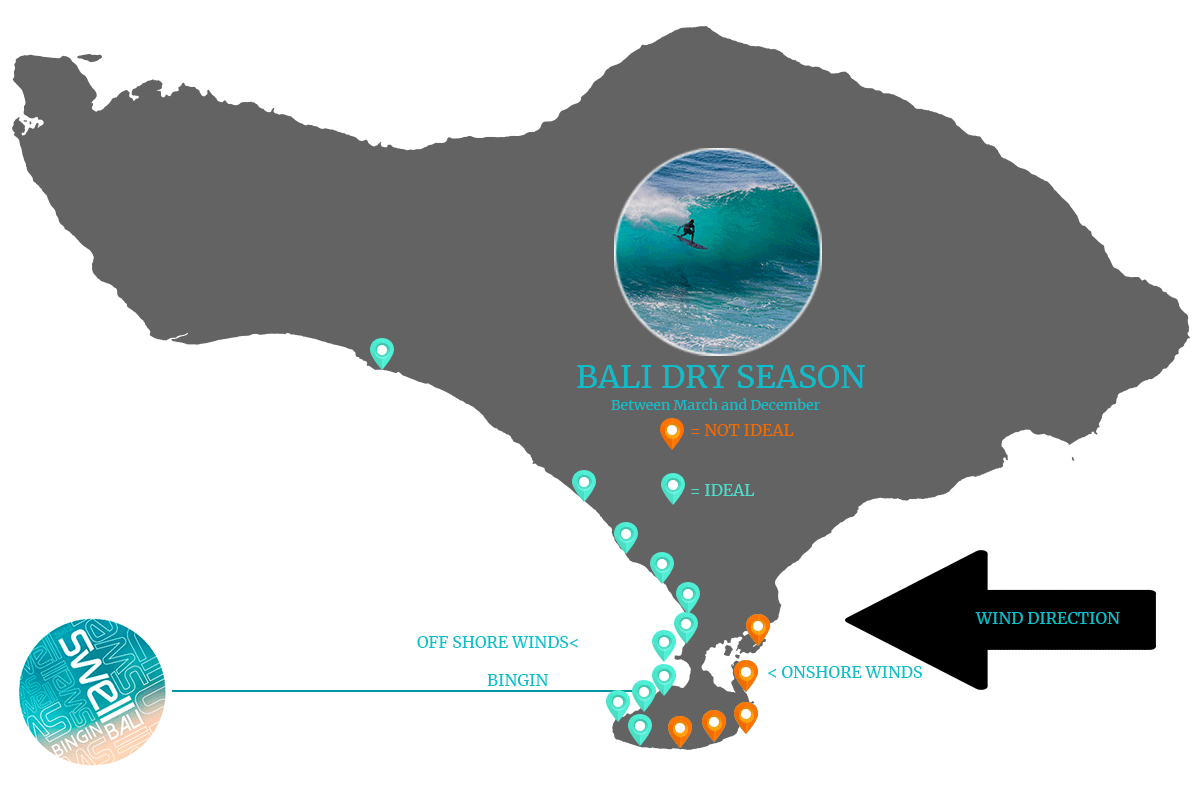 This is also the time of the year where there are lots of storms in the Southern hemisphere that send solid ground swells all the way to Indonesia every few days.
DRY SEASON SURF SPOTS IN BALI
As the above map shows, the surf spots on the West coast of Bali are the 'go-to' surf spots during the dry season, so most of the spots between Medewi in the North of Bali to Uluwatu in the South all enjoy offshore winds during the day. During this dry season, surf spots on the East coast of the island will on most days be 'windblown' with onshore winds. If you are fortunate, you still might be able to catch a few waves in the early morning on the East coast, if light winds are forecasted.
How predictable are the winds in Bali?
Wind strength varies between 8 and 18 knots on 95% of days, so the chance of the wind direction changing during these months is very slim. In the changeover of season (end of dry/beginning of wet and vice versa) winds can shift around a bit.
SWELL SIZES IN BALI DURING THE DRY SEASON
The biggest groundswells usually appear between May and September. Big storms form in the roaring '40s sending massive swells and waves in the direction of the Indonesian Islands and the West and South coast of Australia.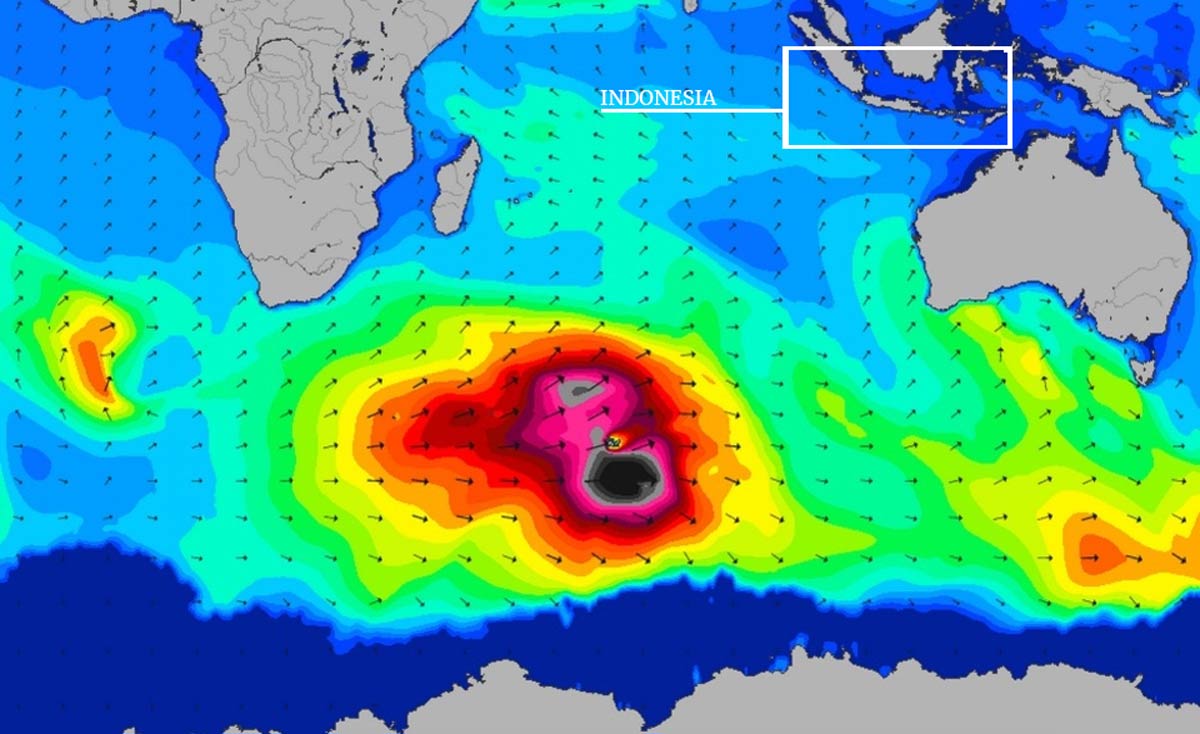 These groundswell result in swell with 18+ seconds interval and 15'+ wave sizes.
Swell Consistency
One of the reasons Indonesia and Bali in particular are considered one of the best surf destinations in the world is that there is virtually no chance to get 'skunked' (being in a surf destination with no waves). Even when there is 'no swell' in Indonesia, Uluwatu will still have waves in the shoulder to head high range. Some spots like the fast left-hander of Padang Padang need a very solid groundswell to start working properly (although Baby-Padang doesn't need much for some fun waves).
Offshore Winds
The offshore winds are present 95% of the days and particularly between July and September can be pretty strong, so if you are thinking of surfing some of the bigger waves on the west coast you might want to consider bringing a bigger board to make your paddle into waves a bit easier. A bigger board (in the 7′-8′ range) is also recommended to surf Uluwatu, Impossibles, and Balangan on the days that it's in the triple-overhead range.
Are the waves going to be too big for beginners and intermediate surfers in the Dry Season?
One of the great things about the South of Bali is that it caters to surfers of all levels: When the waves at Bingin, Dreamland, and Baby Padang get too big for novice surfers, there are still spots where surfing can be done in a safe way: Head for the protected waters of Jimbaran where there will be gentle 2′-4′ waves on the same day that Uluwatu has huge 15′ waves breaking.
Where to stay in Bali in the Dry Season
Anywhere on the west coast is an option between Pecatu and Uluwatu to be close to all our great waves. We looked at all the different areas in Bali before we deliberately chose Bingin because of its close proximity to a large variety of different surf spots for all level of surfers.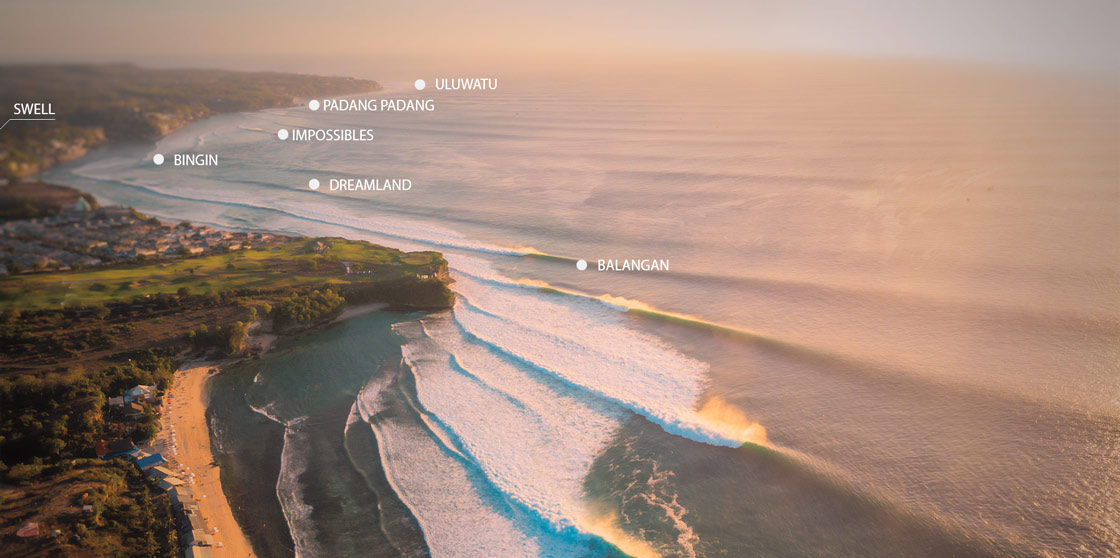 The weather during Bali's dry season
Well ehmm, dry, very dry. It is unlikely you'll see much rain, and when it does fall it will be a welcome thing since you'll enjoy the refreshing change and the near-instant lift to surrounding nature.
Temperature-wise: Dry season enjoys low humidity and pleasant temperatures around 28 degrees Celsius (or 80 degrees Fahrenheit) during the day, with cooler temperatures during the night. Be careful when you choose to stay on in accommodation the beach on the Bukit Penisula: Those off-shore winds will not be felt at all once you descend down the cliff paths to your chosen place (almost all the Bukit Penisula's beaches are well below the cliffs). It can be roasting hot in the afternoons as the sun's rays beat hard, shining from the West onto those beachfront places and there is absolutely no relief from the breeze.
The water temperature becomes cooler in the southern hemisphere winter (May to October), so expect around mid 20's Celcius (75 F). If you get cold easily then you might want to bring a 1-2mm rash vest since the wind can make it feel a bit 'chilly' if you surf longer than 3 hours.
If during your Bali Surf Holiday (hopefully with us at Swell Bali) you are going to be doing some sightseeing in the rest of Bali, you might want to pack some warmer clothes, like a hoodie for example. The weather further north and higher up (if you were to climb one of Bali's mountains for a spectacular sunrise view) gets a good amount colder. Long sleeve pants, hiking boots, and fleece are recommended. If you stay around the beaches, then shorts, t-shirts, and flip flops will do fine with a light hoodie for an evening scooter trip if you rent a bike.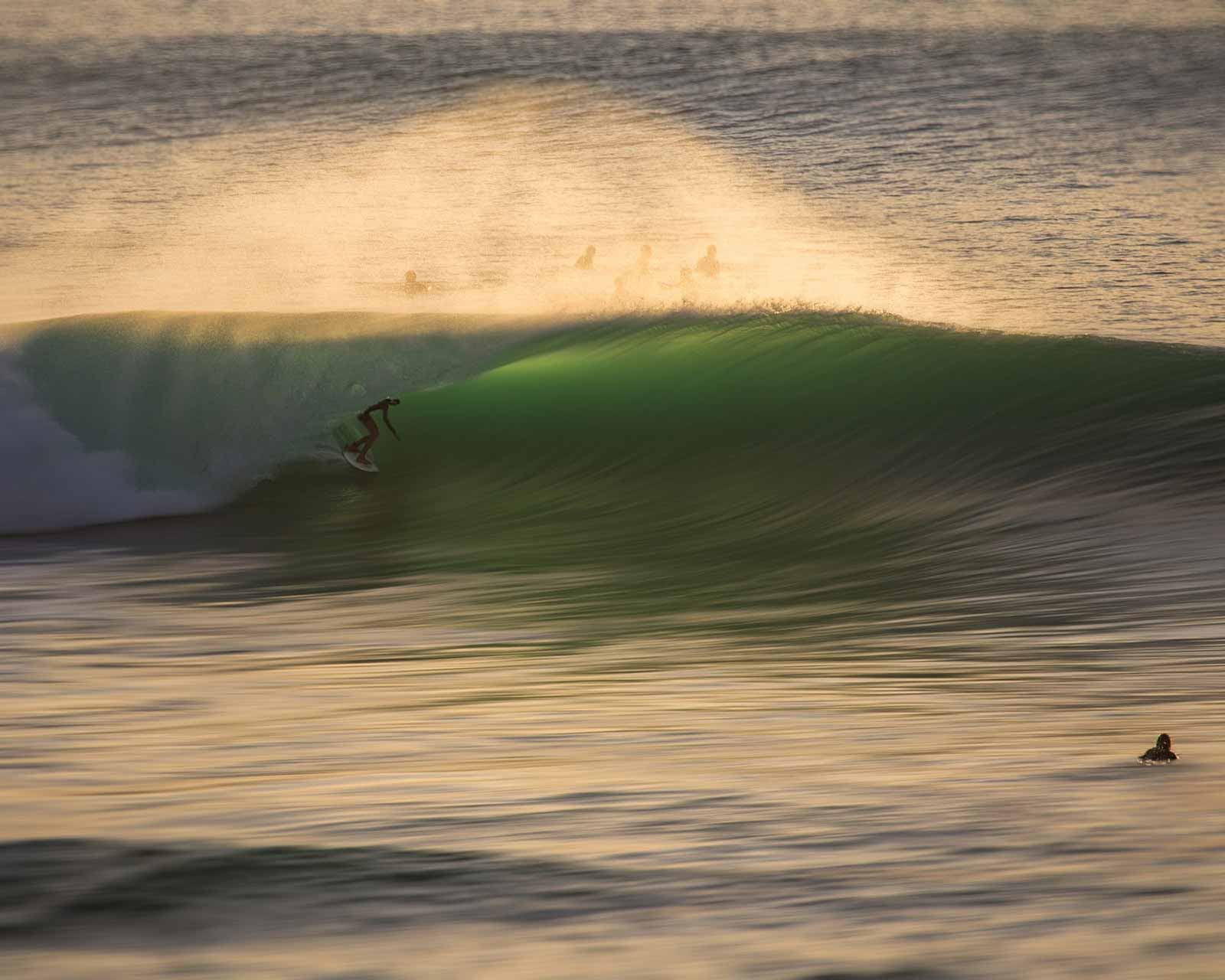 Perfect barrels with offshore winds at Padang Padang beach.
THE WET SURF SEASON IN BALI
Somewhere around the end of November and the middle of December marks the end of the dry season and the start of the wet season in Bali.
During this time the wind patterns changes and the wind starts coming from a westerly direction.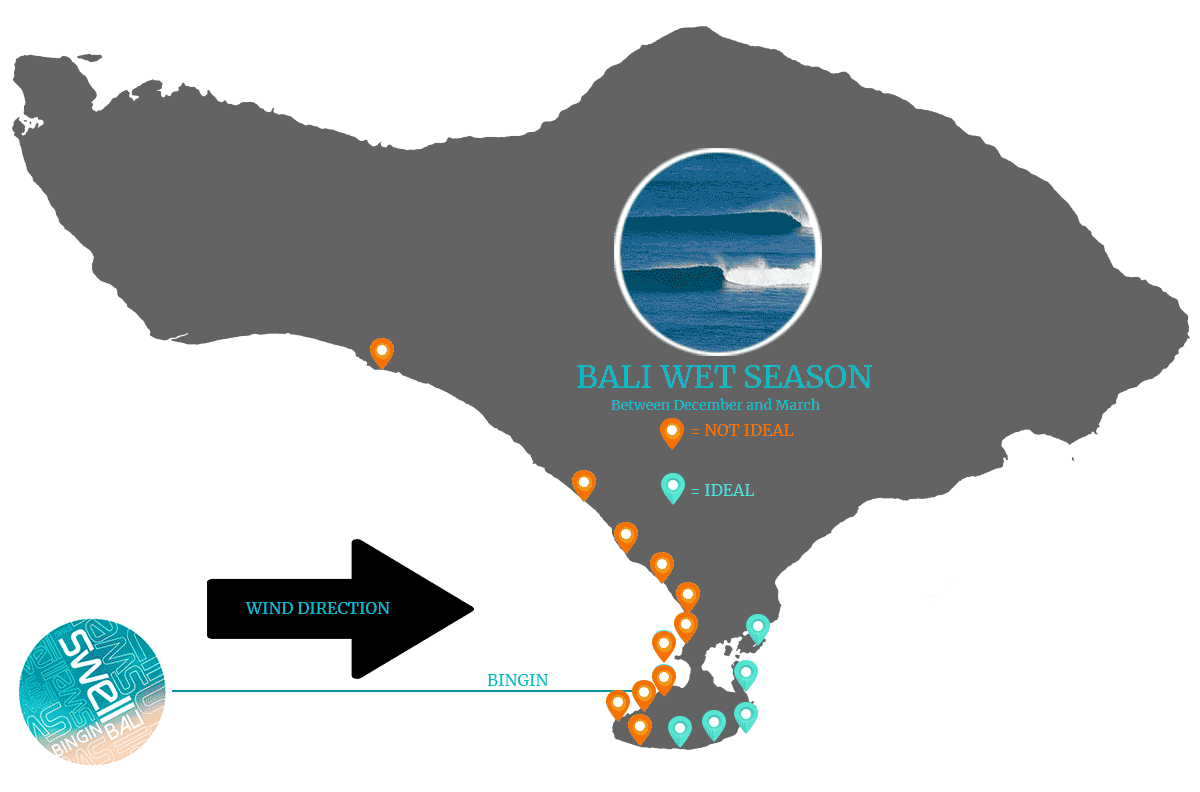 WET SEASON SURF SPOTS IN BALI
The above image is basically a reverse map of the dry season where the spots on the west coast will have less than ideal surf conditions because of onshore winds between 8 and 12 knots. Now the East becomes the prime surf area in Bali's wet surf season. Spots like Pandawa, Nusa Dua, Seranagan, and Sanur are where the wind will be offshore for most of the day. We have a Bali Wet season surf spot guide here on this page.
Are all the surf spots on Bali's West coast considered a write-off during this time of the year? Not at all, there are still days where the wind is non-existent or very light, which produces glassy days at West coast surf spots. We often surf out at Bingin with only one or two people during the rainy season. What the waves might lack in perfection is more than made up in the lack of crowds. See our Uluwatu surf report on January 9th 2021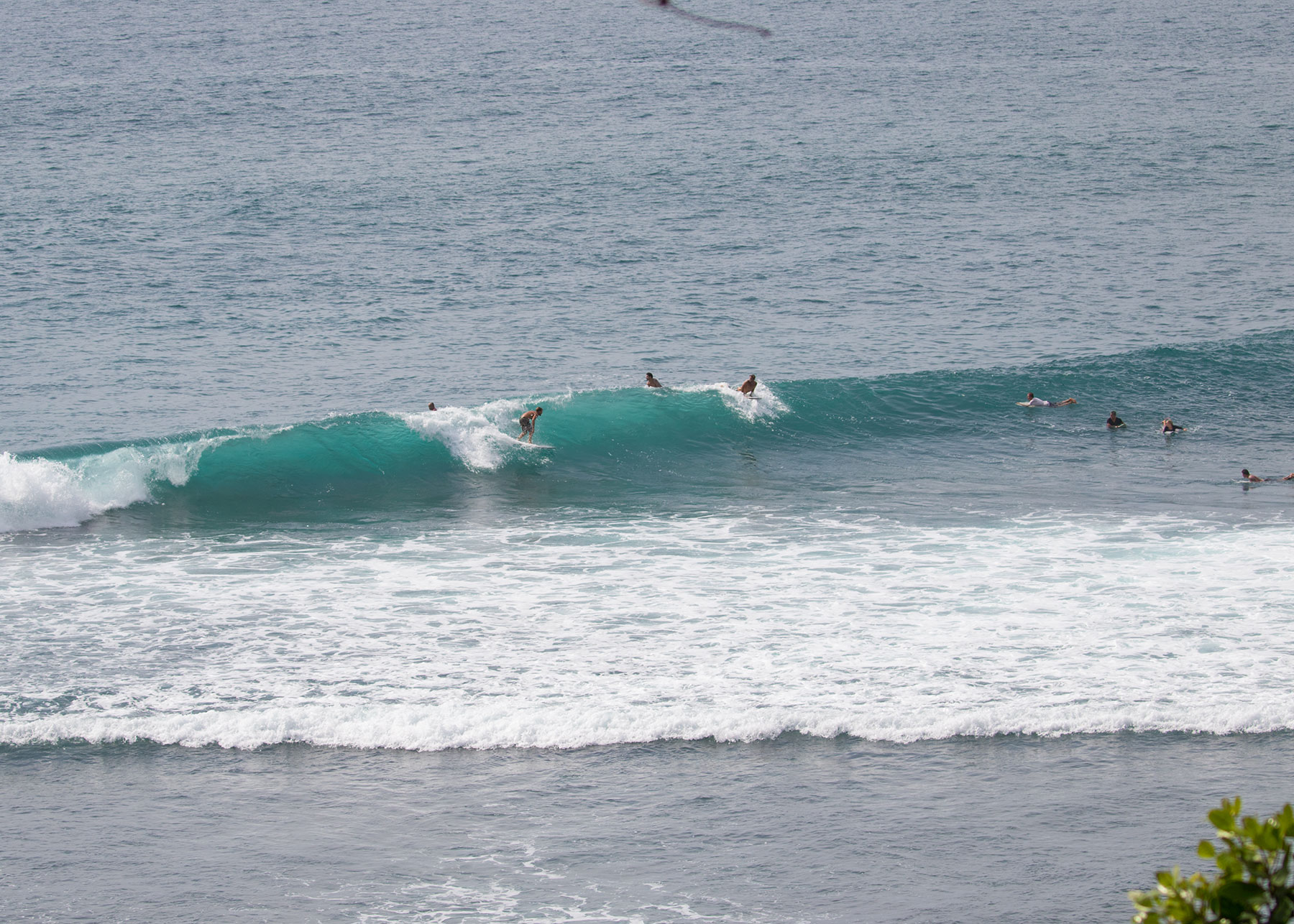 Not your typical Uluwatu perfection, but pretty fun, rippable walls with only a few people out at Uluwatu on January 9th.
SWELL SIZES DURING THE BALI WET SURF SEASON
The southern ocean is a lot less active during the Southern hemisphere summertime, so the chances of solid, massive groundswells at this time of the year are less likely. However spots on the South and East coasts of Bali do pick up a lot of swells, so there are still plenty of days with double-overhead waves to be found if you look for the right spots like Sanur, and Nusa Dua.
Swell Consistency
Even though Bali in the wet season is not prime swell time, you'll be hard-pressed to find too many days where a head-high wave cannot be found somewhere.
Surf Conditions for Beginners and Intermediate surfers in Bali's wet season
Spots like Nusa Dua and Nico Beach offer great conditions for people who have never surfed before. Even the spots on the west coast of Bali, like baby Padang and Bingin, can still be good options for learning to surf in Bali even if there are a few knots of onshore winds.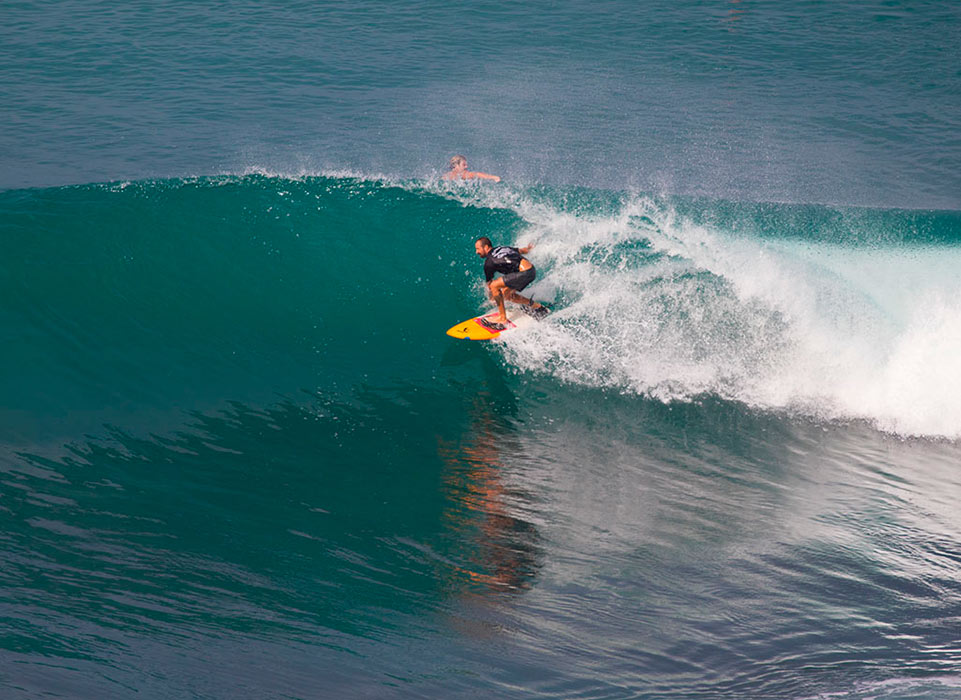 Surfing at Serangan in Bali's wet season
The Weather during Bali's Wet Season
After 8 months of barely any rain, the arrival of rain is welcomed by locals and ex-pats alike. Everything will turn lush, green, and fresh. How much does it rain? This varies dramatically per year and per month, sometimes there are only a few hours of rain at night in the middle of January once every while, but you can also see torrential downpours which can last hours. One thing to keep in mind is that after heavy rain the water might not be the cleanest for a few hours. Onshore winds and heavy rain can bring garbage and debris onto the beaches and in the ocean.
Temperature-wise: Pretty warm and humid, but the rain cools everything down. This is the time to have the A/C on at night to sleep well.
The water temperature is very warm, so no need for rubber, just wear a rash vest for sun protection.
Where to stay in Bali during the Rainy Season
More and more people are deciding to remain on the west coast of the Bukit as it gives good access to a variety of different surf spots and also has the best restaurants and accommodation. From Bingin and Padang on the west coast to Uluwatu and Pandawa on the South coast. If the winds are onshore over there, it's a short easy drive to on a bike or in a taxi to Nusa Dua which is only 25 minutes away. You can also base yourself in Sanur or Nusa Dua although it's a more all-inclusive type of tourism over there with not much of a 'real' Balinese feel.
If you have any questions, either surf or weather-related when planning a surf trip to Bali, do contact us and we'll always give you an honest answer of what you can expect.