SURFING BALANGAN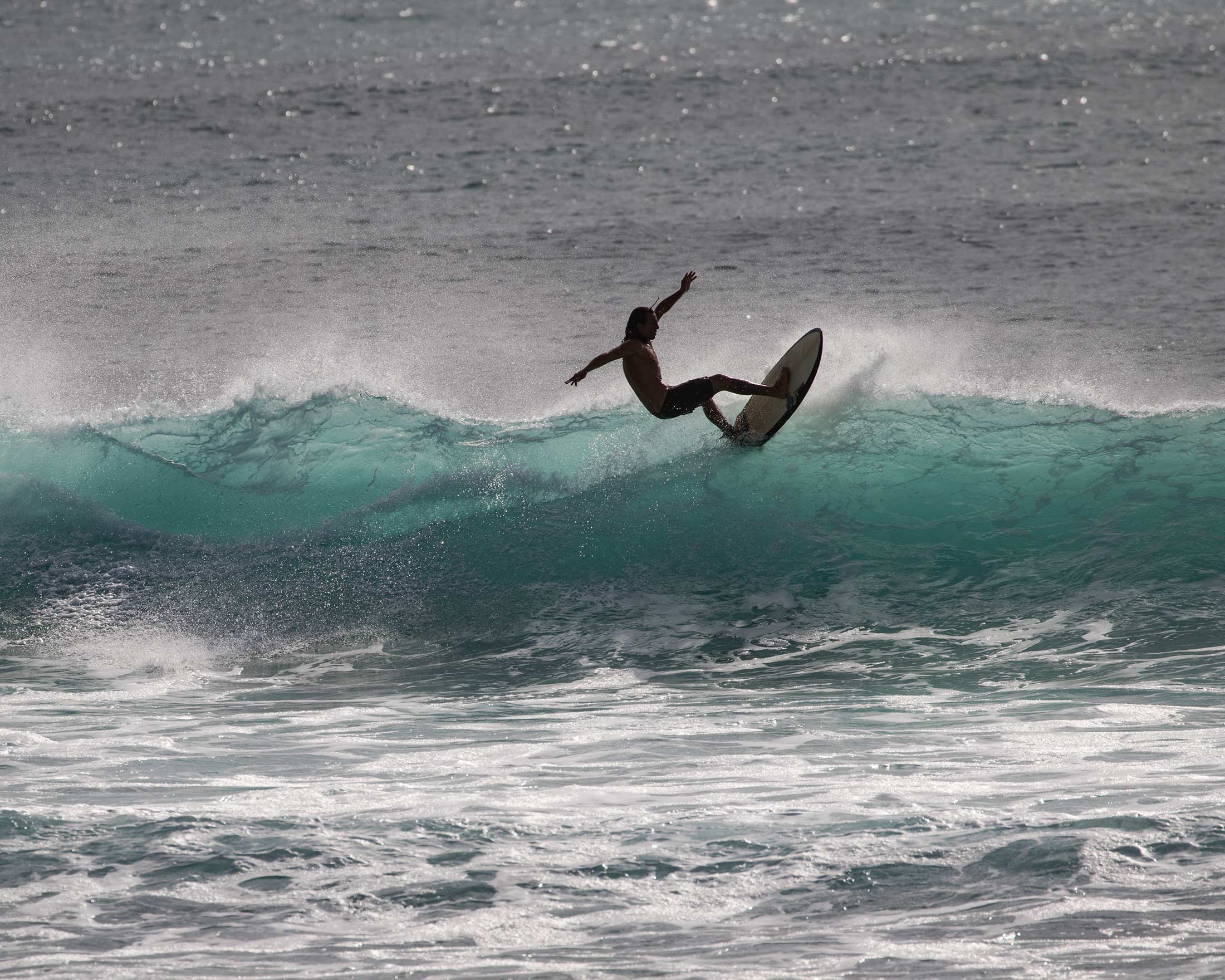 A surfing guide to surfing Balangan
Balangan is one of Bali's iconic left-hand reef breaks that doesn't get as much attention as it's more famous siblings like Bingin, Padang Padang and Uluwatu.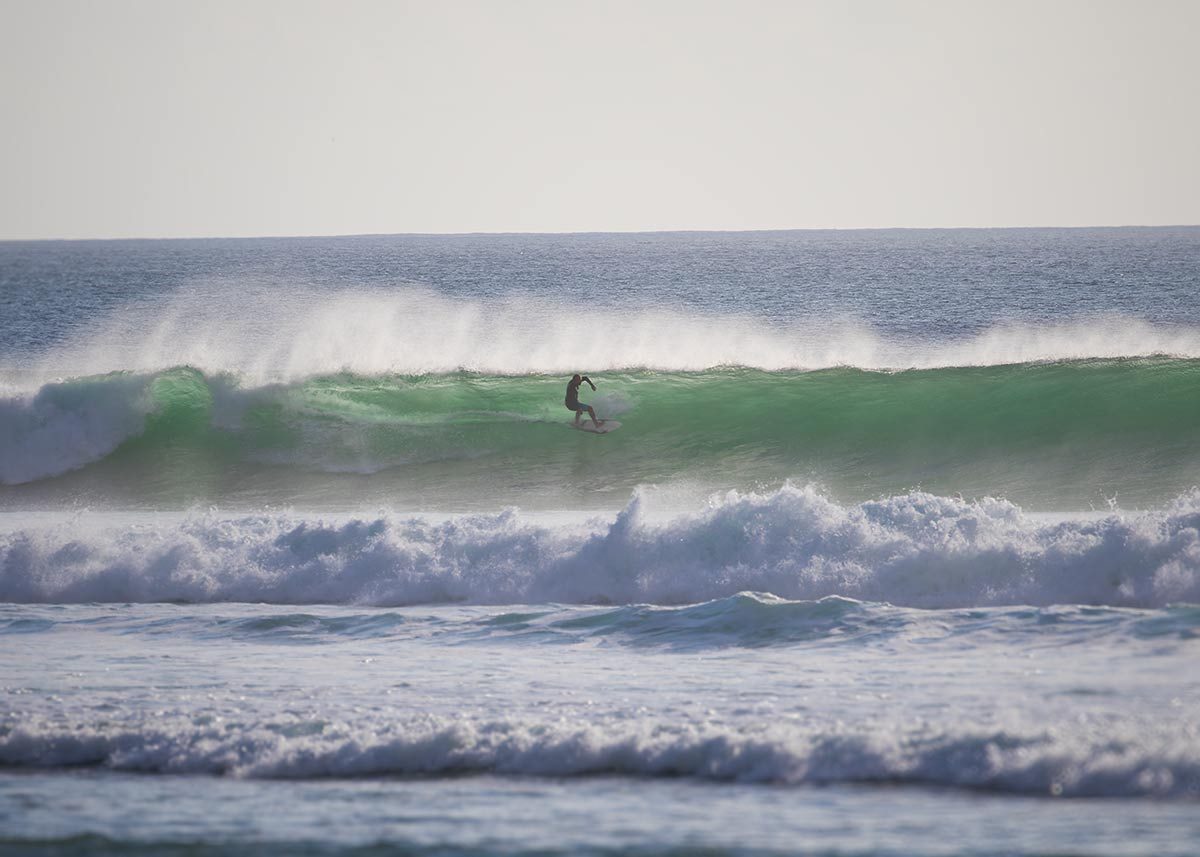 THE LOCATION OF BALANGAN
Balangan is located just north of Bingin and Dreamland beach, about 500 metres north of Bingin, but access is blocked off from Bingin by a headland, where the start of the Balangan wave is. You could paddle from Dreamland to Balangan on small days, but on big days this is definitely not recommended.
Access to Balngan is easy, there are 2 main access points with parking at Balangan, on the north and the south side.
Parking is almost level with the beach, so no long stairs to walk down.
To get to Balangan from Swell, there are 2 ways, if you follow Google maps you will be directed all the way to Ungasan and then follow the above map to end up at the surfing beach.
An easier and way quicker way to go to Balangan is to cut through Dreamland beach community taking 2/3rds of the journey. Ask one of our Swell surf guides, and they will tell you.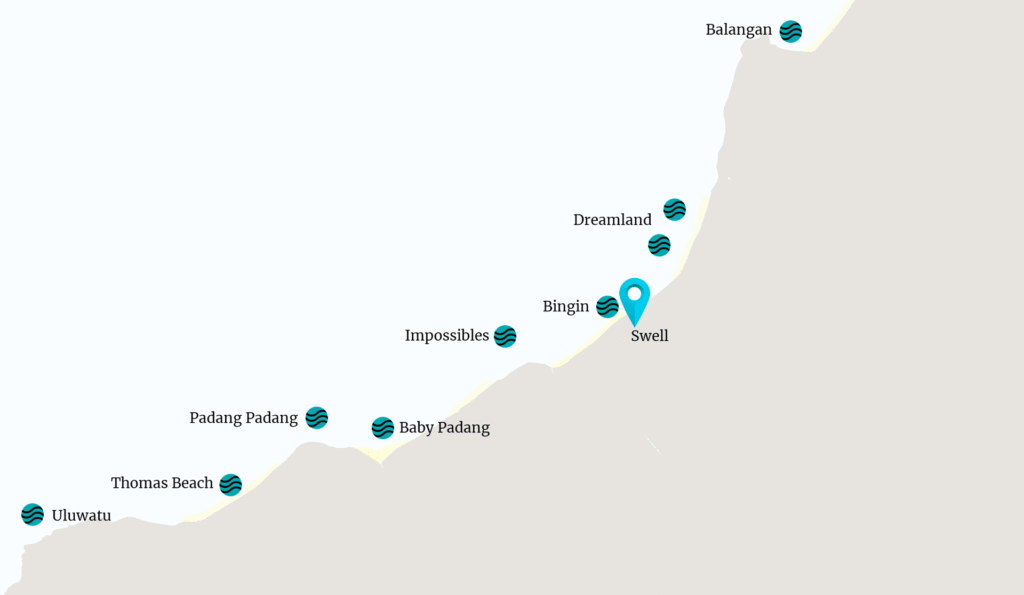 SURFING BALANGAN
Balangan is a wave that suits for surfers of most levels: people who are learning to surf can stick to the inside, intermediates can make their way to the outside (on smaller days) and expert surfers love the long lefts that can get up to 5x overhead on the big swells.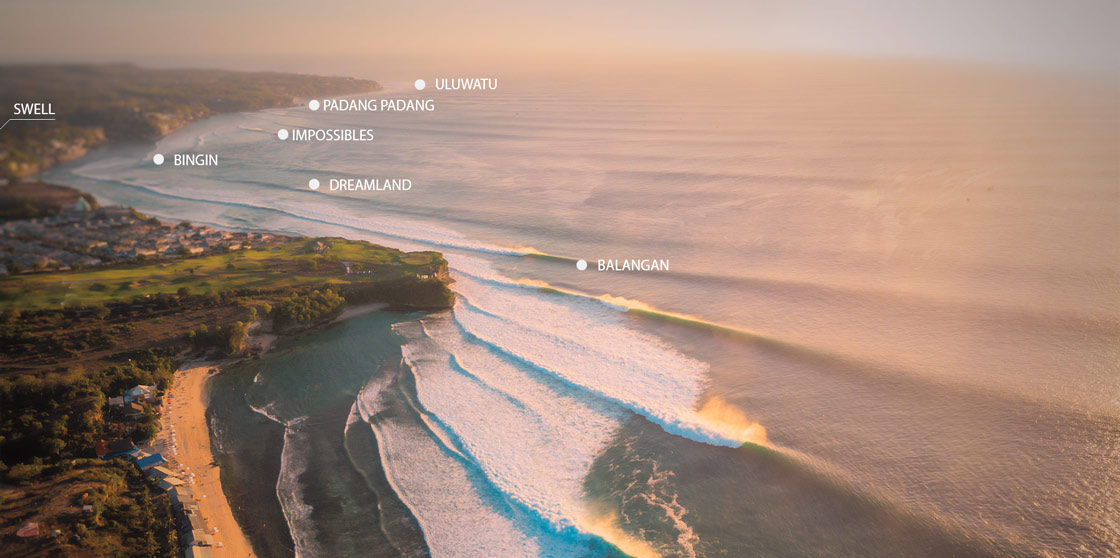 As the above photo shows, when there is a solid Swell running, Balangan can be one of the longest lefts on the Bukit, with big carving walls, barrel sections and fast racey section.
The Wave at Balangan
Balangan caters for surfers of all levels, from complete beginners on small days to expert surfers surfing catching super long left handers on big days
Best Swell Direction: South – South West
Best Swell size: 2′ – 12′
Wind directions: Easterly tradewinds
Best time of the year to surf Balalangan : Between march and November.
Ideal Board: Your standard board will wort well here, bring a bigger board for when the waves get big.
Wave direction: Lefts
Bottom:  Coral Reef break, deep enough on high tides
Hazards:
Sharp coral reef on low tides
Crowds of mixed abilities
Powerful waves.
Shorebreak on higher tides close to shore.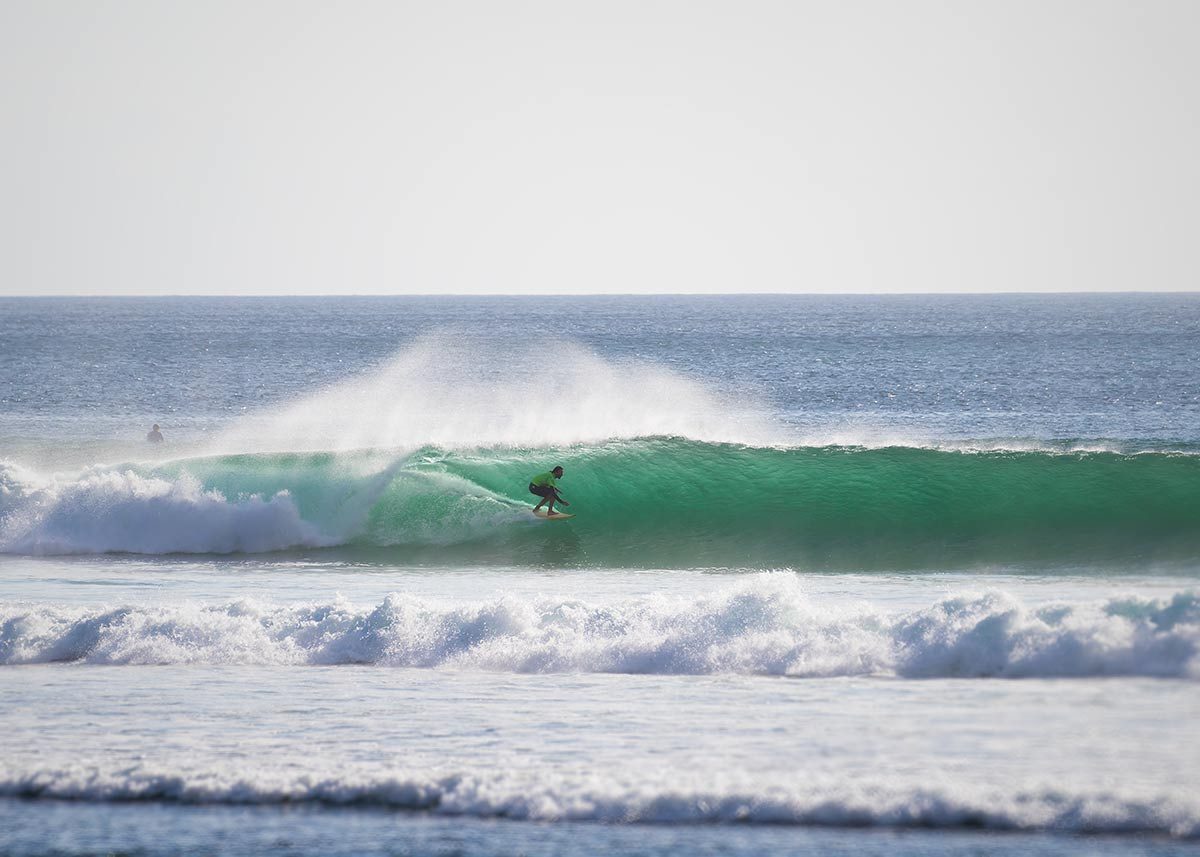 Practical stuff surfing Balangan
Where to Park?
Close to the beach, pay a few 1000 rupiahs to the locals (0.2 USD)
Where to leave your stuff?
Local warungs are more than happy to look after your belongings when you go for a surf, just make sure to order food or drinks from them afterwards.
Where to eat?
There are a couple of warungs that sell local food.
Board repair?
The local warungs have ding repair facilities
Board rentals
Local warungs rent basic beaten up boards and soft tops for 5-10 USD per hour.
Where to stay?
Swell offers high-quality surf accommodation right in the centre of Bingin, a short walk to Bingin beach and paddle to Impossibles.
Tips for surfing Dreamland
Early morning= fewer crowds & less wind.
Surfing Balangan video
Surf video Balangan: Big day