SURFING BINGIN
Bingin is not the most famous wave in Bali, that honor is reserved for Uluwatu, followed by Padang Padang and Bingin. All 3 waves are top quality lefts, all 3 are located on the Bukit with 2 km of each other and all 3 have different characteristics.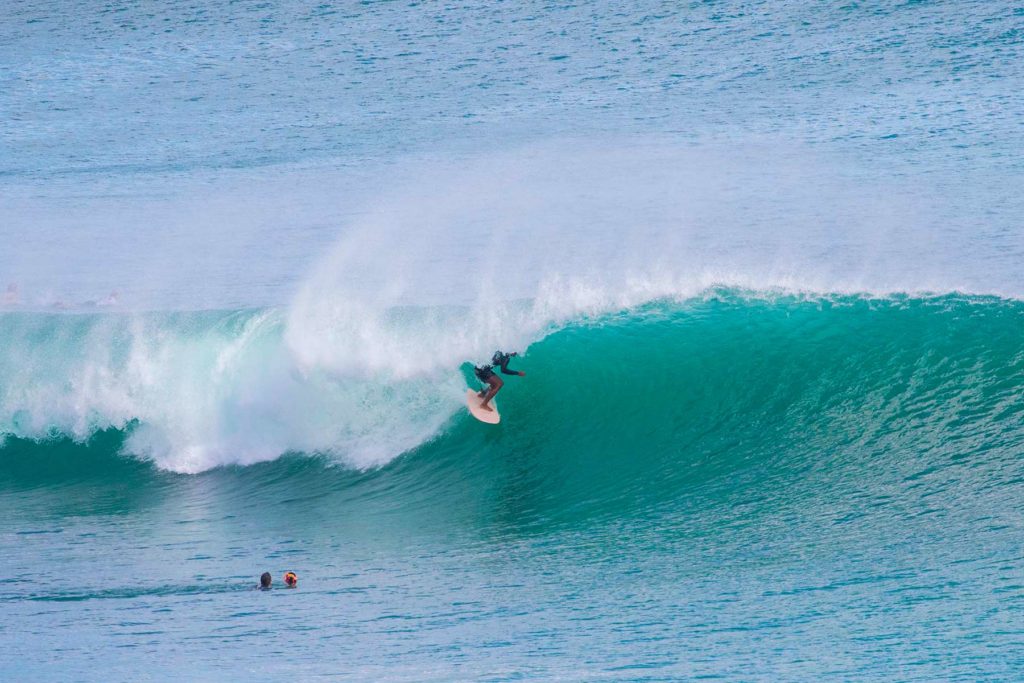 Uluwatu is known for being the most consistent wave in Bali, Padang Padang is the least consistent but when it does break it's Bali's best big barrel, Bingin is perhaps Bali's most perfect wave. It's consistent, predictable and one of the 'easiest' waves to find a barrel.
We chose to built our surf hotel in Bingin, because it's the most centrally located surfing beach in Bukit, with Impossibles, Padang And Uluwatu to the South, Bingin out the front and Dreamland and Balangan a short walk up north.
Another big + for Bingin is that it caters for a large variety of surfers: For expert surfers looking to find a deep barrel in sketchy low tide conditions, to intermediates on the mid-tide to Complete beginners that want to learn to surf at high tide
Read our surfing Bingin surf spot guide below to find your surf travel info for Bingin Beach, have any questions? Send us a message
LOCATION OF BINGIN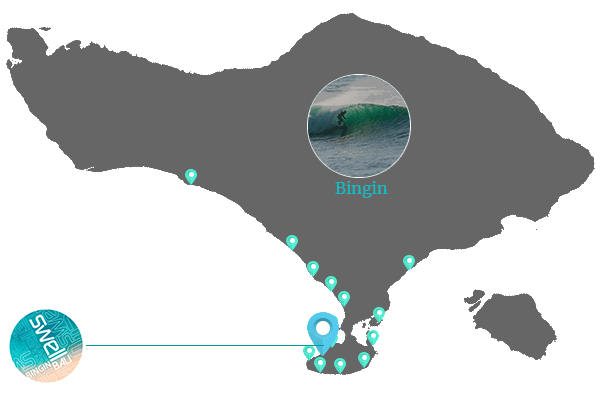 Bingin is located on the Bukit peninsula, nestled between Dreamland and Padang Padang. A small fishing and farming town where a mix of locals and expats share the quiet town vibe with the visiting tourists looking for a great wave, or a stunning white sand beach to spend their holiday.
Getting to Bingin: From Denpasar airport / Kuta follow the directions to Uluwatu. Take the turn off to Pecatu towards Padang Padang and turns right at the Drifter surf shop towards Bingin. Park in the paid car / bike parking and follow the steps down to Bingin beach.
SURFING BINGIN
SURF SPOT INFO
When you have walked down the 80 or so steps from the cliff down to Bingin Beach, you will see Impossibles to your left (and Padang Padang and Uluwatu in the distance) the wave at Bingin is on the right side of the beach.
The wave is about 100 meters of the beach and can be reached easily by paddling straight to the peak on mid or high tide. On low tide it's a walk over sharp reef towards the edge of the reef shelf and then timing your entry into the ocean and a 20-meter paddle to the take-off spot.
The good part of Bingin is also the bad part: It's a very defined small take-off spot so hassling for positions is needed to get your wave count up. Take your turn, don't drop in and paddle back out wide to stay out of the surfer's way.
Also because it is such a high quality wave with easy access, expect a crowd. Early mornings and off-season is the best way to avoid crowds.
THE WAVE
Short, intense and perfect.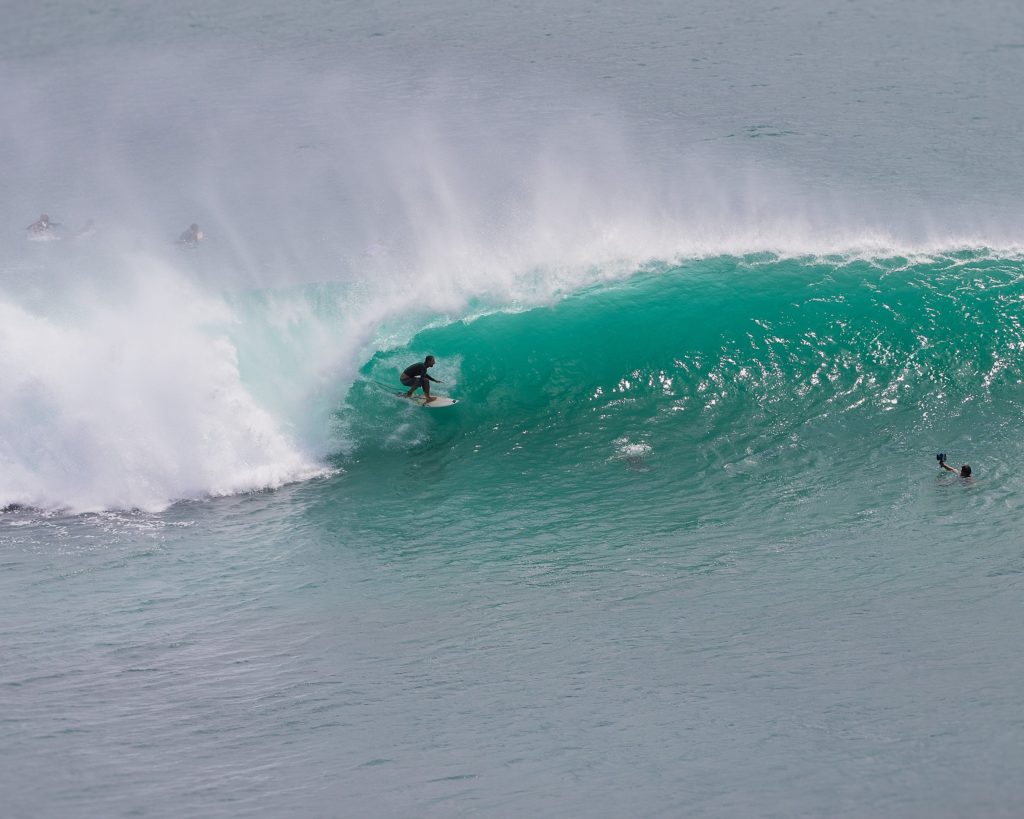 Bingin is one of the shorter waves in Bali, but what it lacks in length of ride it makes up for in intensity. After take-off the waves quickly throws a barrel section for a few seconds, followed by a nice wall for 1 or 2 turns. Don't stay on the wave for too long, because it will end at a section aptly named 'Greedies' an inviting wall turns to closeout over shallow reef in 0.2 seconds. A wipeout here will inevitably turn to reef cuts.
On mid to high tide there's also a mellow right hand wave, about 30 meters to the left (when looking at the ocean) from the main peak of Bingin. The right hander on a high tide is an ideal wave for intermediate or beginning surfers to learn to surf in Bingin
CHARACTERISTICS
LENGHT OF WAVE: Short ride, between 50 -100 meters.
TYPE OF WAVE: Barreling left hander over reef.
SUITABLE FOR: Experienced to expert surfers.
IDEAL WAVE SIZE: Head high to double overhead.
TYPE OF SURFBOARD: Standard shortboard works well here.
BEST SEASON: Dry season from April to November.
HAZARDS: Sharp and shallow reef, Drop ins, getting in and out of the water over the slippery rock shelf.
BINGIN BEACH INFO
Bingin is one of the prettier beaches in Bali: white sandy beach, a shallow lagoon for snorkeling and views over Bali's best waves.
WHERE TO EAT: There's a good variety of restaurants and local warungs at Bingin.
The local warung offers excellent Indonesian meals like Nasi or Bami Goreng for a few dollars. Fancy western food?
Go to Bingin Omabka warung or Kellies warung that serve a variety of western and local Indonesian meals for very reasonable prices
SURF EQUIPMENT: There are a few warungs and schools that rent surfboards for around 100K IDR for 2 hours.
Surf lessons: Teko runs TnT Bingin Surf school and they offer good surf lessons and local expertise.
Buying a surfboard? There are a bunch of surfshops that sell new and second hand surfboards in and around Bali.
Some of the better surfboard shops are Drifter, Channel Islands Surfboards and Rip Curl in Padang Padang. Expect to pay around 100-200 USD for a used board, and prices for a new surfboard range from 450 to 1000 USD.
SURF PHOTOGRAPHY: Got a good barrel? it will be on film, coming back to shore & you'll hear a few photographers shout 'photo photo' Check out your action and buy the photo for a few dollars
SURFBOARD DING REPAIR: Locals have been fixing boards here for years and are very good at getting your board ready for your next session a few hours later.
Prices are cheap and quality is good. Jelly has his workshop right next to the surf school where you exit the water
WHERE TO STAY: local warungs rent out rooms for a few dollars per night, don't expect luxury or comforts, but if you are young & on a budget and want to spend most of your time in the water it's ok.
Want comfort, style and a social vibe? Stay at our place, Swell Bali, a 2 minute walk from the cliff edge.
BINGIN SURF GALLERY
BINGIN SURF FORECASTS
: MagicSeaaweed and Surfline provide good short and long term surf forecasts
BINGIN SURFING VIDEO