a unique bali surf  holiday 

A Swell Bali surf camp Experience
A luxury surf camp in Bali
Style & Comfort at the best location
Our purpose-built Bali Surf Camp is right in the heart of the popular surf village of Bingin, in the Uluwatu area of Bali. Swell has the look and feel of a boutique hotel and surf retreat, but with the relaxed, social vibe you would find in a surf resort or surf camp in Bali. In designing Swell Bali Surf Camp, our thought was to create the perfect surf resort for surfers.  We cater for solo travellers, sociable couples and friends to get together with other surfers.
Learn to surf & Yoga
Interested in learning to surf? join us at Swell Surf camp For a
Unique surf & yoga Camp
And the location of our surf camp? Right in the centre of Bingin; we are a genuinely short walk to the surf, the beach and to great restaurants.
Did you know: The Bingin / Uluwatu area doesn't just cater for advanced surfers, it also has some of the best beginner and intermediate surf spots in Bali, a short walk from Swell Bali.
IDEAL FOR SOLO TRAVELERS AND FRIENDS
ARRIVE AS A GUEST, LEAVE AS A FRIEND
We started the first Swell Surf camp in the Caribbean in 2009.  8000+ happy clients later, and having been consistently rated the #1 Surf camp & Yoga retreat holiday in the Caribbean,  we finally found our perfect location for another Swell surf camp in Bali.
At both Swell locations, the central part of our surf camp is the large communal area; this is where guests and staff all get together for a good time. We have breakfast and dinners together, play some pool or ping-pong, or just chill out and relax at the sunken sofa overlooking the fish and turtle pond. For solo travellers there is no better place in Bali to quickly get to know other people from around the world!
Learning to surf in Bali is great, but the Bingin – Uluwatu area is also Bali's hotspot for surfers looking to improve their surfing.
There are perfect waves within walking distance from Swell for those of you that don't need lessons but are looking to surf perfect left waves (there are right-handers too btw).
Stay at Swell Bali Surf Camp is about meeting new people, sharing meals & go on a surf trip with them. Surfing with mates is more fun than surfing by yourself.
Swell is a social place to stay for adults of all ages.  We get a lot of emails from 'older' people asking if they are too 'old' for our place.  The answer is no.  In our other place in the Caribbean, our average age is 38.  We can confidently say that if you want to stay at Swell and you want to surf, that bond is stronger than the number of years you've been alive.   
If you have never surfed before, then Bali is a great place to learn the sport of surfing in a safe, fun and quick way. We have a large variety of waves suitable for surfers of all levels.
If you already have some surfing experience from previous surf camps but are looking to improve your technique, get into green waves, learn how to select the right waves, improve your paddling, make bottom and top turns and generally take your surfing to the next level,  surf lessons  are perfect for you.
Bali truly is one of the best places in the world for surfers of all levels.
More info about learning to surf in Bali >>
Don't need surf lessons, but want to stay in a super comfortable and social place at the best location in Bali? Swell Bali Surf Camp will be a good fit for you.
Ideal for solo surfers who like meeting new people, having a surf together and going for some drinks after a great session.
We can give you tips on which surf spots work best at what tides, swell hights and your surf ability.
Where is Swell bali surf camp?
Before we chose a location for Swell, we looked at all the different locations in Bali that are suitable for a surf camp in Bali; Canggu (too busy), Seminyak (not enough variety of waves), and all the other spots on Bali's west coast.
We chose Bingin, because it is right in the center of Bali's best waves. Bingin, Dreamland, and Impossibles are wordl class waves (for surfers of all levels) and are all within walking distance.  Padang Padang , Uluwatu and Balangan are a short bike ride away.
In Bingin we are right in the center, so you can walk to restaurants, fitness & yoga centers and of course the beaches.
We love the Bingin / Uluwatu area, and we are sure you will too!
There is no other surf camp in Bali that has a better location than Swell.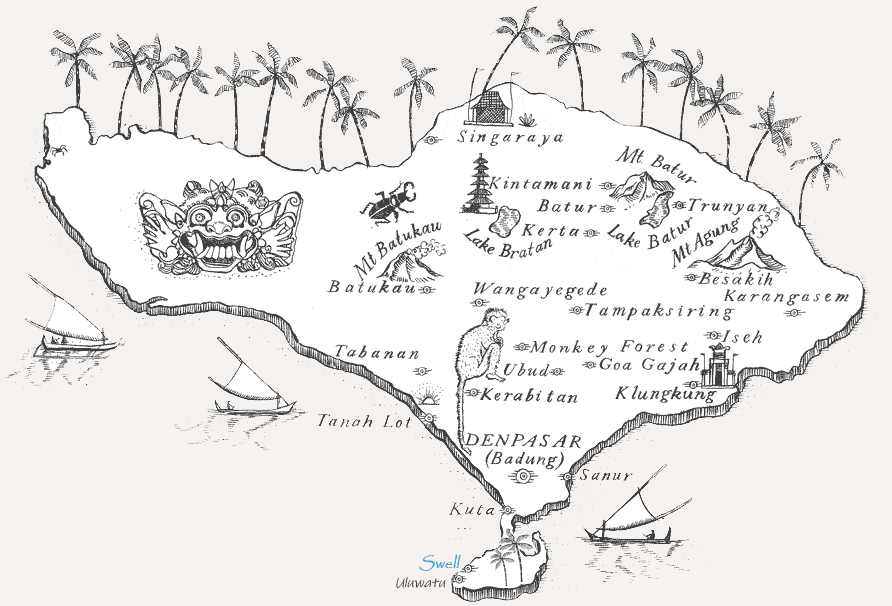 accommodation
Boutique Bali surf camp accommodation in the center of bingin
surf lessons
Learn to surf in Bali from professional surf instructors
Gallery
Pictures of Swell and the surroundings
Below are some of the frequently asked questions about Swell Bali, if your question is not answered, send us an email, we'll get back at you in no time.
Swell Bali can only be booked through our own website.
We do not discount (save for long-stays at certain times), or sell our room rates on any other external website, or sell rooms via agents.
Just send us  your dates using the price and availability quote and we will get back to you in no time!