Walk to bali's best waves from swell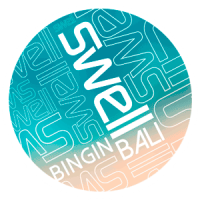 The Bukit Peninsula in Bali has long been regarded in the surfing world as one of the best places in the World for waves, so it's the ideal place to be for a Bali surf holiday: There are so many different, World-class surf spots in a small area.
We didn't choose Bingin by accident: The moment we walked from our land through this charming little village to the clifftop and stared across a vast expanse of surf breaks, starting from left to right with Uluwatu, Thomas Beach, Padang-Padang, Baby Padang-Padang, Impossibles, Bingin and Dreamland, with Balangan also visible around the right-hand peninsula, we knew we had found the perfect location.
A year-round surf season and warm, azure waters, makes Bali the ideal surf destination for surfers of all levels.  
Experienced and expert surfers will all be familiar with Uluwatu, Padang-Padang, Impossibles, Bingin, etc. but there are also waves here for those who are still improving their surfing + some amazing beginner waves too.
Bingin inside section, Dreamland, Balangan and Padang Padang all have excellent beginner and intermediate surf conditions. 
Waves for surfers of all abilities
Expert surfers have long been going to the Bukit area of Bali as the waves here are widely regarded as some of the best in the world. 
But in recent years more and more intermediate surfers and people who have never surfed before, are realising that the Bukit area is also superb for finding waves to match their abilities too.
Many spots change from a hard-core wave to a mellow wave in just a few hours as the tide rises, making many spots here on the Bukit, especially Bingin, ideal for learning or improving.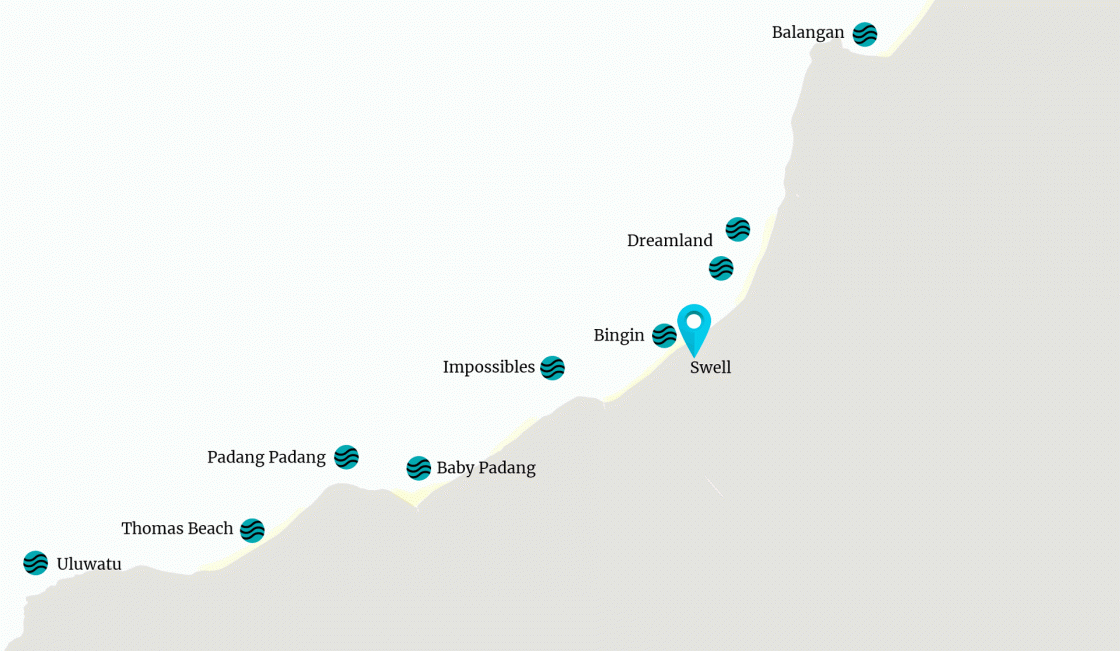 Aeral view bingin surf zone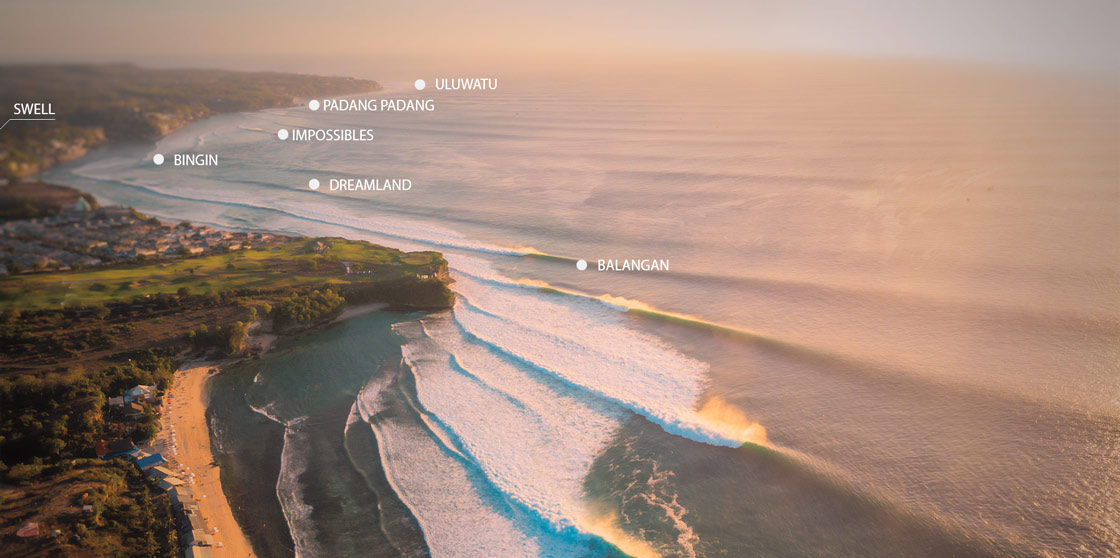 One of Bali's best waves. A consistent left, breaks on all tides, and picks up swells easily
For experts: Best on low or mid tide, expect barrels.
For intermediate: Mid or high tide, ideal for improving.
For beginners: High tide, mellow right breaks in channel.
Distance from Swell: Short walk
More info: Surfing Bingin
Rating: 9.5/10
Iconic long left hander. Consistent wave with several different take off areas, crowds spread out. The bigger the swell, the better the wave holds up.
For experts: Best on low or mid tide & a big swell
For intermediates: Mid or high tide & small to medium swell size.
For beginners: Not suitable
Distance from Swell: Short walk + 5 minute padddle|
More info: Surfing Impossibles
Rating: 9.0/10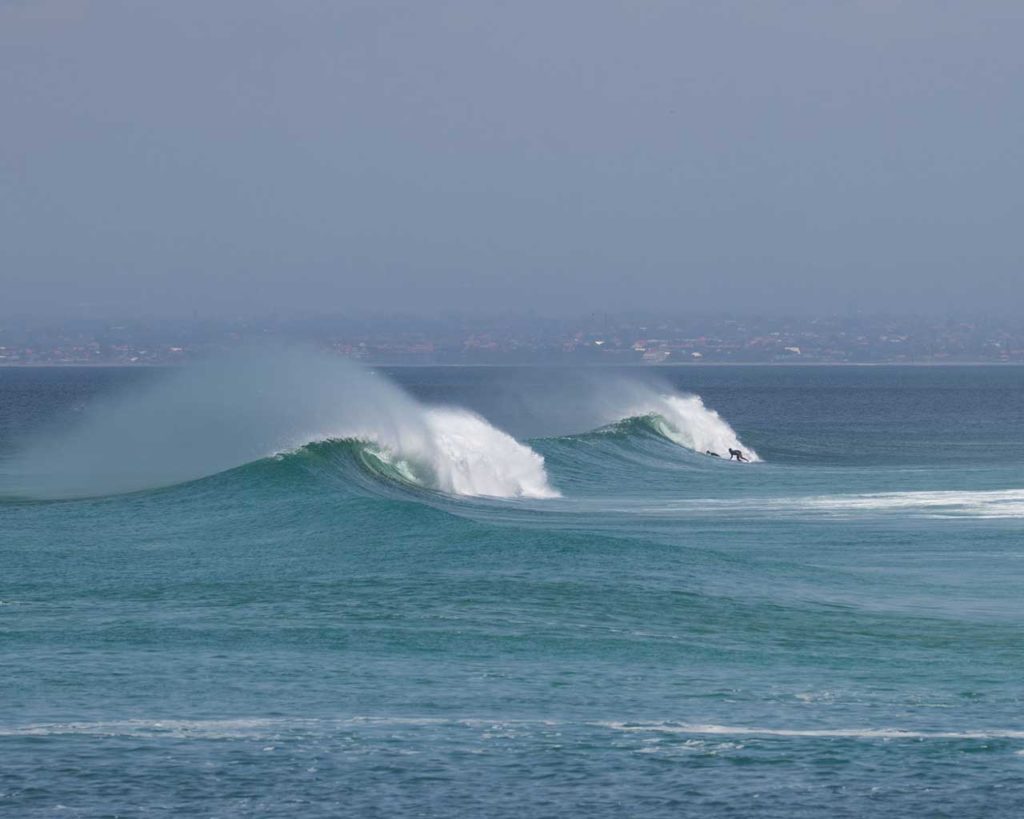 A favourite for intermediate surfers. Breaks best on low and medium tides. Fun left and right waves, multiple peaks, flat reef / sand bottom.
For experts: Best on very low tide, air sections on the inside
For intermediates: Low & medium tide, fun walls
For beginners: Medium tide & smaller swells
Distance from Swell: short walk
More info: Surfing Dreamland
Rating: 8/10
On solid swells Padang Padang comes to life. A world-class left-hand barrel. Unfortunately, you will have to share the lineup with a lot of fellow surfers who are after the same perfection, when it's breaking.  Be with a local = get a wave or two on this incredible machine-like wave.  Absolutely unsuitable unless you are already a good surfer.
Best on solid swells, and low tides.
Distance from Swell: 5 minutes on a scooter
More info: Surfing Padang Padang
Rating: 10/10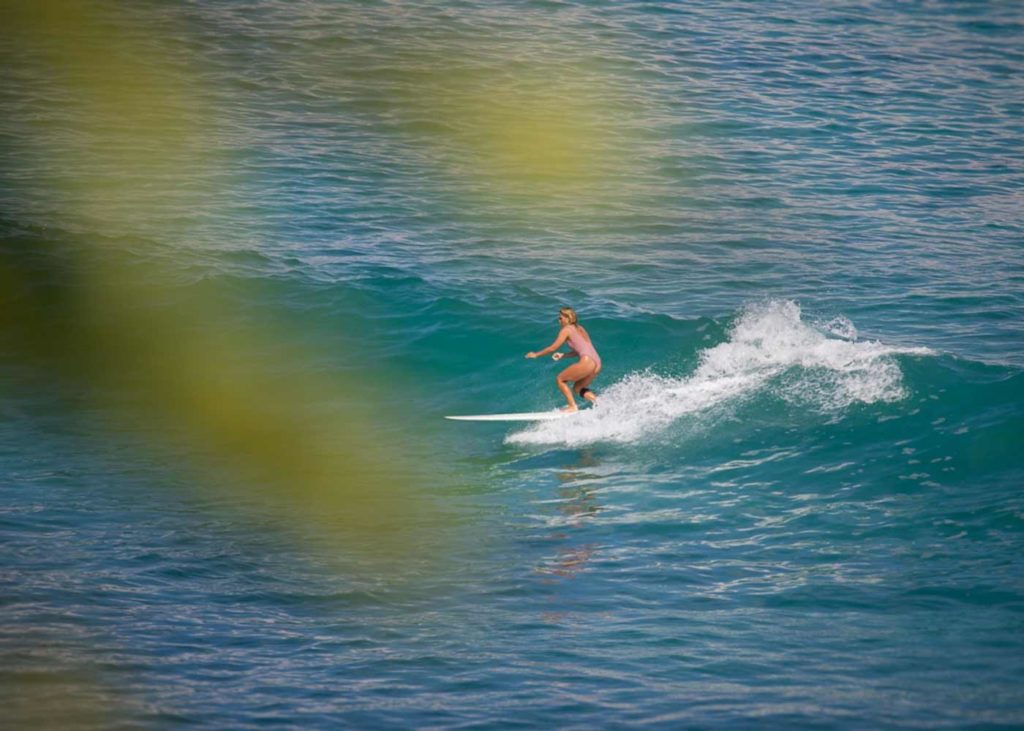 Great waves for beginners and intermediate
Baby Padang is the opposite of big Padang Padang: It's a mellow right and left hander, ideal for beginners and intermediate surfers. Best on medium tides. Fun left and right waves, and ease of paddle with a defined channel to go out.
Distance from Swell: 20 minute paddle, or 5 minute scooter
Rating: 8/10
Long lefts at this iconic surf spot
Uluwatu is one of the most famous waves in the world. Ultra consistent left hand walls. Several different peaks to choose from
For experts: Best on low or mid tide , Any swell size
For intermediates: Mid or high tide & small to medium swell size.
For beginners: Not suitable
Distance from Swell: 5 minute scooter ride
More info: Surfing Uluwatu
Rating: 10/10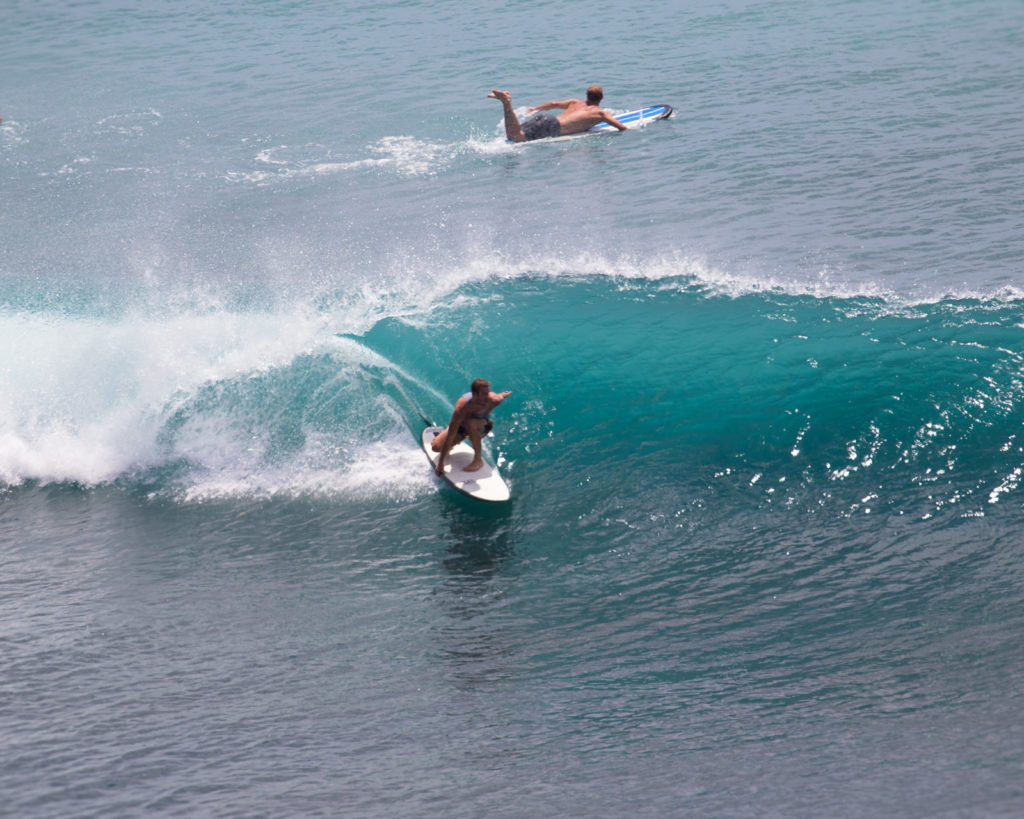 The surf spots listed above are just a small selection of the quality waves you can surf on your Bali surf holiday. It's really not easy to find another place in the world that has such a wide variety of waves in such a small area.
Never surfed before? we can get you set up with a learn to surf course
the ultimate surf destination
Year round surf season.  We are on a small islands, it's offshore somewhere
Large variety of waves from beach breaks to shallow reefs
Year round warm air and water temperatures, bring plenty of sunscreen
Something for everyone: beginners – intermediate and expert surfers
accommodation
Boutique Bali surf hotel accommodation in the center of bingin
surf lessons
Never surfed before? Bali is a great place to learn
gallery
Pictures of swell and the stunning scenery in bingin
Booksafely & quickly online
A Swell Bali surf holiday can only be booked through our own website.
We do not sell our rooms on external websites or via any agents.  You can book our place using our online booking tool (click below), or by sending us your dates.  We will get back to you in no time with a price and availability quote
Below are some of the frequently asked questions about Swell Bali, if your question is not answered, send us an email, we'll get back at you in no time.
Booking is very easy, you can either use our online booking engine (quick, easy and secure) or if you have any questions prior to booking, just send us an email, and we'll answer you within a few hours.  
Bingin, on the Bukit Penisula, is right in the centre of the best waves in Bali and Swell is very deliberately placed so that you only have a short walk (250m) to the beach.  Restaurants are all around us and Yoga, a gym, a mini-mart, a spa, a French Bakery and even a laundry are all within a very short walk. There is no other Bali surf camp or surf resort in Bali that is better located than Swell
A short walk from Swell Bali you will find the world-class wave of Bingin.  Bingin is a machine like, left-hander that breaks over reef.  However on the higher tides and smaller swells it's also a great wave for beginners and intermediates. Impossibles is another wave that Swell guests can walk to, without the need for a scooter or taxi. It's a long left-hander that is suitable for intermediate and expert surfers. For longer rides, it's best on a bigger swell and can easily hold waves up to 4-5 x overhead. On smaller waves, you can still enjoy Impossibles but don't expect the waves to connect all the way through. Looking for mellow intermediate waves? Walk to Dreamland and enjoy mellow waves. Dreamland is best on the lower tides. Overall if you want to enjoy the best waves that Bali has to offer, you could not be better located than in Bingin with Swell Bali SurfRetreat More info about
Bali's best surf spots here
Traveling by yourself? You couldn't have picked a better place to stay !  At our first Surf Camp in the Caribbean, we have been the #1 destination for solo/single travelers for more than 10 years.  Swell Bali surf resort is set up in exactly the same way and is for people who want to meet others on their adventure surf holiday.
70% of our clients travel to Swell solo. The way we are set up means that it is really easy, and positively encourages you, to meet fellow travellers. We have breakfast together, usually surf together and play together! 
The large communal area which is at the heart of our surf camp  is the central meeting hub to socialise, play a game, and enjoy meals and drinks in the company of others.
Swell is not a suitable place for young children, so we have a minimum age of 15 years old
We started our first Luxury Surf Camp in the Caribbean 11 years ago. Clients love our concept; all the luxuries of a boutique hotel but with the social aspects of a hostel. Swell in the Caribbean has ideal learning to surf  conditions for people who have never surfed before. After looking for a location for a second luxury surf camp, with detours in Mexico and Costa Rica along the way; we finally made it back to Bali after 20 years. Bali retains its natural beauty but now has the added benefits of great eating out and shopping.  Here on the Bukit, we have the white sand beaches and the surf is world class.  The locals are still as friendly and smiley as ever.
Whilst looking for our ideal location, we found Seminyak and Canggu to be too busy with huge traffic problems.  Bingin ticks all the right boxes: A stunning white sand beach – Awesome surf –  Good restaurants, bars and surf shops and loads of local charm.
Swell Bali has a first class team of in-house surf instructors that can improve your surfing at all levels.
Swell Bali has the same good vibe as our place in the Dominican Republic; completely ideal for solo travellers. The standard of accommodation is also the same:  An amazing communal space with plenty to occupy our guests when they are not surfing, super comfortable rooms, great mattresses, linen and very tasty and healthy food.  We also enjoy the biggest swimming pool in Bingin 🙂