13 REASONS TO MAKE BALI YOUR NEXT SURF TRIP DESTINATION
Bali, Indonesia was once the pinnacle of surf travel. It was exotic, untouched, and for the most part, unknown. When images of the now famed waves of Uluwatu, Padang Padang, and Impossibles first graced the pages of surf magazines, surfers around the world were stunned. Traveling to Bali became the crowning achievement of every traveling surfer, and rightfully so because it was not easy.
Today, there are direct flights to Bali from all over Australia, and if you're traveling from the United States or Europe, only one short layover in Singapore is required. Bali is not the uncrowded, untouched paradise it once was, but it is still paradise. Now, Bali is one of the world's top travel destinations and with that fame, a variety of newfound benefits have materialized.
The new comforts and benefits of a top tier travel destination combined with the natural wonders that first brought surfers to the island make Bali the world's greatest surf trip destination. If you're not convinced yet, keep reading to find out why.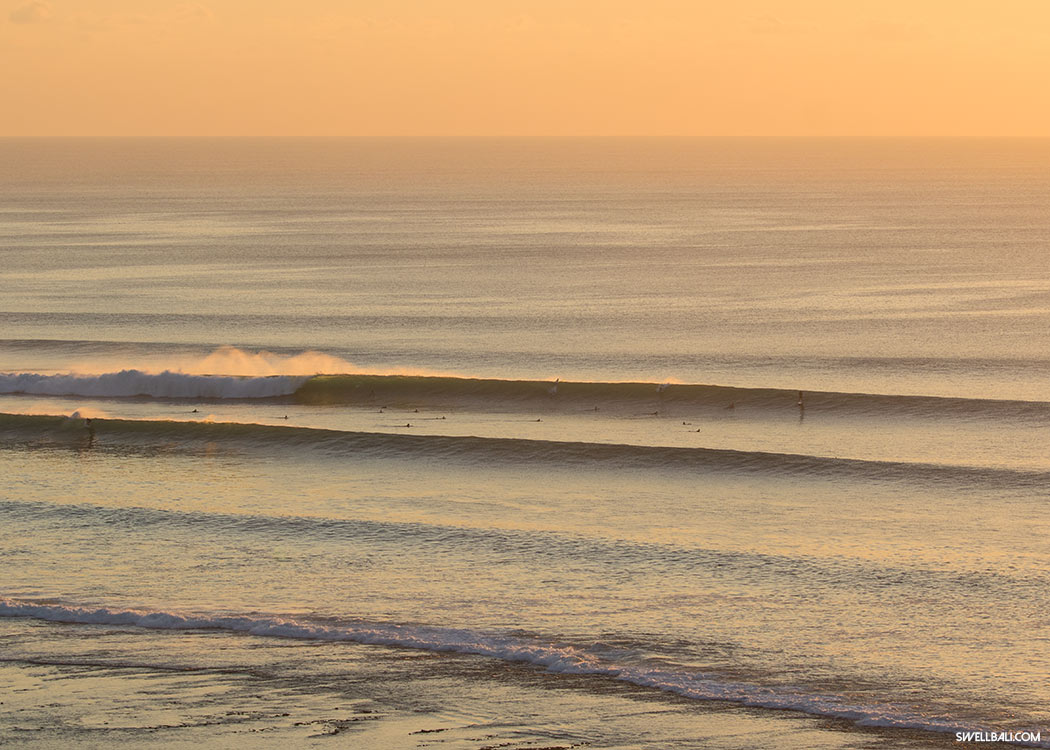 REASONS FOR A BALI SURF TRIP DESTINATION:
1. WARM AIR AND WATER
Bali is one of over 17,000 islands that make up the nation of Indonesia. Indonesia is located in the southern hemisphere in the heart of Southeast Asia at approximately 8 degrees south of the equator.
To this effect, Bali is a tropical island surrounded by warm water. While cold water surfing seems to be increasing in popularity, with surfers flocking to the shores of chilly destinations like Ireland, Canada, and even Iceland, nothing beats a warm water surf trip.
The ease of simply throwing on boardshorts and heading into the water makes several session days a likely possibility. Plus, nothing beats drinking a cold beer in the sun after a surf session.
PREFER VIDEO OVER READING? WATCH THIS VIDEO
2. BALI HAS WORLD CLASS SURF BREAKS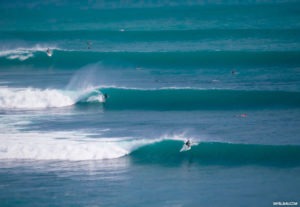 Uluwatu, Impossibles, Padang Padang, Keremas, and Nusa Dua are just a few of Bali's premier surf breaks. These breaks are world famous, and for good reason, they are near perfect.
No other destination offers such high-quality surf in such high quantity. In Bali, there is truly a wave for every level and style of surfer. If you're an advanced surfer, enjoy the deep barrels and endless air sections of Bali's famed left-handers.
If you're just learning to surf, the sand bars at Kuta beach are for you. If you're an intermediate surfer looking for long, cruisy rides, look no further than Impossibles, close to Bingin. Expert surfer? Uluwatu, Bingin and Padang will give you a chance to score some of the best barreling waves of your life!
3. IT'S A YOGA MECCA
Yoga may be the latest fitness trend to dominate your Instagram feed, but yoga has a long, rich history in Bali that dates back thousands of years. Yoga's origins are tied to the religion of Hinduism and can be traced back to India. Many islands in Indonesia, Bali included, are predominately Hindu.
Today, some of the best yogis in the world are located in Bali. The island is home to dozens of yoga studios, schools, and surf camps that offer yoga instruction.
Practicing yoga on Bali's pristine beaches or on its dense jungles is a surreal experience that any true yoga aficionado should have for themselves.
4. THERE ARE DOZENS OF HIDDEN RELIGIOUS AND CULTURAL GEMS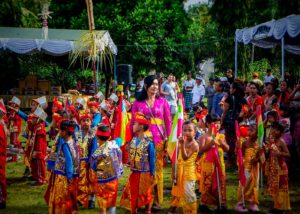 While Bali is a diverse island, home to a variety of religions, the most prominent of those religions is Balinese Hinduism. Hinduism in Bali has evolved over thousands of years into a unique version of the religion that can only be found on the island.
A plethora of temples and holy sites that welcome visitors are in close proximity to world class surf.
The Uluwatu Temple sits on the cliff tops just above the famous wave. In addition to the temples, another highlight of the Balinese cultural experience is Balinese dancing. Traditional Balinese dancing is tied deeply to the religious beliefs of the island. There are multiple genres of dance that can be witnessed by travelers all over the island.
5. PUMPING WAVES YEAR-ROUND (EVEN DURING RAINY SEASON)
While many surf trip destinations boast similar air and water temps to Bali, not every destination is created equal.
Many surf spots in Latin America, for example, experience high onshore winds during the height of the rainy season. While Bali's rainy season does switch the direction of the wind on the island, there is plenty of surf to go around.
The west-blowing winds of the rainy season blow onshore and flatten many of Bali's iconic breaks, but there are still plenty of locations that work during Bali's rainy surf season. In fact, some of Bali's most high-performance waves, like Keremas, turn on with west-blowing winds.
6. THE GORGEOUS LANDSCAPE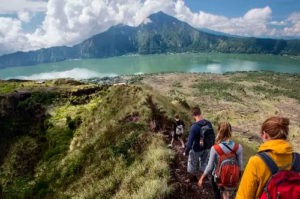 For a small island of only 2,232 square miles, Bali has a beautiful and diverse environment and landscape. Bali's landscape is visually striking; towering, thousands of feet high volcanic peaks that give way to lush jungle, terraced rice patties, and tropical beaches.
Volcanos are scattered all over the island, few of which are active and even currently erupting. Bali's largest volcano, Mount Agung, stands at an astounding height of 9,944 feet.
Bali's coastline has more to offer travelers than just surf. The striking coastline gives way to emerald green water with coral systems teaming with marine life underneath the surface.
7. THE EXOTIC WILDLIFE
Because Bali is relatively young geologically, there are not many native animals on the island. But rather, most of Bali's wildlife has migrated there.
Bali's fertile land and picturesque waters shelter exotic wildlife that attracts visitors from all over the planet including approximately 280 species of birds, two species of monkeys, exotic fish, sea turtles, giant manta rays, and much more. For travelers that want to experience Bali's unique wildlife first hand, Ubud Monkey Forest offers unparalleled contact with Bali's famous monkeys.
If visitors want to explore the expansive underwater ecosystems around Bali, the island possesses several world class diving and snorkeling opportunities.
8. NEW ENVIRONMENTAL PROTECTIONS
Indonesia has long carried the burden of the world's plastic dependence and troubling pollution. After the viral 2010 image of the "trash wave" became famous, and the world realized Indonesia had a problem. As a nation comprised of over 17,000 islands, Indonesia has contact with much of the ocean's plastics and for a long time, they did nothing to remedy this catastrophic issue. On December 21, 2018, Balinese governor Wayan Koster signed into law the ban of all single-use plastics on the island.
The ban officially goes into place in June of 2019, with the goal of curbing single use consumption by 70% in 2019.
9. IT'S CHEAP!
It's a common misconception that traveling halfway across the world to score perfect waves has to be expensive. With the numerous resources out there to find cheap flights, getting to Bali doesn't have to cost an arm and a leg. Once you get there, however, is when the real savings begin. Bali's hotels and vacation home rentals are significantly cheaper than the industry standard. You'll feel like a king staying in a luxurious room at a top tier surf camp or in a state-of-the-art villa.
Meals in Bali don't break the bank either, meals can be as cheap as a few dollars with fine dining priced reasonably as well.
10. THE BEACH CLUBS AND NIGHT LIFE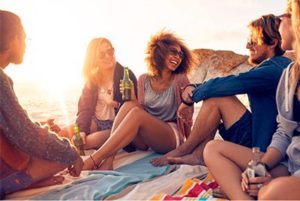 One of Bali's most attractive features for many travelers is the nightlife. The island has evolved into one of the world's top beach destinations, and with that evolution has come a budding nightlife. When it comes to nightlife, Bali has it all; low key spots to grab a quiet drink, pubs, and the famous beach clubs.
If you're a surfer, chances are you will eventually wander over to the cliff top Single Fin Beach club, which is perched above the famous waves at Uluwatu. Another stunning club is Omnia Bali, only 10-15 minutes from Swell Bali
11. THE WARUNGS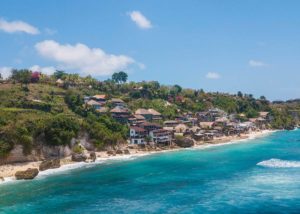 A trip to Bali is not complete without a local meal. While Avocado toast, acai bowls, gelato, and chia seed pudding have their place on the island, a meal at a local Warung is deliciously authentic. What's a Warung you ask? And how does a Warung differ from a restaurant? A Warung is a locally, usually family-owned eatery that specializes in the local cuisine of Bali.
Diners at a Warung can expect a selection of local foods like Chicken Satay and Nasi Goreng. Travelers will find Warungs to be welcoming and a bit cheaper than the internationally owned restaurants. Bingin still has tons of charming warung's in the center of Bingin, or right in front of the surf at Bingin's cliff front.
12. THE FRESH FRUIT
One of the many benefits of traveling to a tropical island is the access to fresh and exotic fruits many travelers won't find at home. In fact, most travelers probably won't recognize many of the delicious fruits that are native to Bali. Don't be alarmed by the extraterrestrial appearance of many of the fruits found in Bali, most are sweet and delicious.
Beware of durian, the notoriously smelly fruit, loved by locals but generally unpalatable to foreigners.
13. THE COFFEE
The temperate climate of the hilly regions of Indonesia's islands is ideal for growing coffee beans. In fact, some of the best coffee in the world comes from nearby Sumatra and Java. Unlike Sumatra and Java, Bali was not established as a coffee growing hub by the Dutch. But that doesn't mean that the fertile soils in Bali aren't just as perfect for harvesting coffee beans. The volcanic soil of the Kintamani region provides an ideal environment for bean growth.
There is nothing better than starting a day with a fresh cup of locally sourced coffee before your first surf session; it's even better when it may just be some of the best coffee on the planet.
When it comes to surf trip destinations, nowhere in the world quite compares to Bali, Indonesia. Delicious local food, exotic wildlife, pristine wilderness, and of course, world-class waves make Bali the world's greatest surf destination.
Enjoying your time in Bali will be effortless and remind any surfer why they came to love the water. Not only will the waves be firing, but you will never forget your ride through Bali. If you're looking for top tier accommodation, surf lessons and guiding, and a one of a kind Balinese experience, look no further.
14. BONUS REASON: THE LOCALS
Maybe one of the most important reasons to visit Bali is the locals: The local Balinese are amongst the friendliest people you'll meet in your life. Good natured, kind and welcoming to everyone regardless of their religion or beliefs.
In and around tourist area's most locals speak some English so it's easy to strike up a conversation.
Why hope you will include Bali on your list of surf destinations for 2020!
Interested in learning to surf on your holiday to Bali? Bali is not just for expert surfers but also caters very well for beginners and intermediate surfers.
About Swell Bali
Swell Bali is opening in 2020 in Bingin as the premiere surf hotel in Bali. Located 100 meter from the cliff edge at Bingin makes it the perfect surf resort for any surfer that wants to experience the best waves that the Bukit in Bali has to offer. Stylish accommodation with healthy breakfasts, centered around a large loft style communal living room makes Swell
Bali Surf Hotel
the most
social hotel in Bali
for surfers that want to experience a
boutique surf camp experience in bali