Learn to surf in Bali; surf lessons for all levels.
Why Bali is the ideal destination for a surf holiday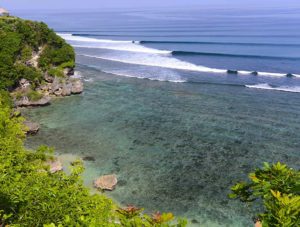 If you are wondering about which country to choose for your surf holiday, this article might help you decide. We've tried to provide as much information as possible about why it should be a Bali surf holiday you choose, over countries like Costa Rica or Portugal, for example.
Hopefully, once you have read this, you will realise that Bali is the perfect location for surf lessons whether you are a beginner surfer, an intermediate who wants to improve your skills, or even an expert surfer who needs a little coaching on a particular aspect or move you wish to improve.
Once we have convinced you to take a Bali surf holiday, we will elaborate on the huge variety of surf spots to choose from here and where you will find the best waves for your level of surf experience.
Why Bali for your surf holiday?
Bali is known as the 'Island of the Gods', but why is that? Probably the most logical explanation is within the roots of Balinese culture, which are rich and deep. At every street corner, outside every home, shop or hotel, and at random, meaningful locations, the Balinese make offerings to the Hindu Gods several times each day.
Small baskets of tiny gifts are made, topped with an incense stick which wafts delicious scents through the air: Anyone who has ever visited Bali will be left with this good, sweet-smell memory!
In the Hindu faith, kindness and compassion run deep and this Balinese kindness and friendliness are famous the world over. We've lived here in Bali for a few years now and it is still the most welcoming place we've ever stayed (and we have lived in a lot of countries, such as Mexico, Costa Rica, Portugal and the Dominican Republic).
Balinese culture is everywhere, demonstrated by the endless temples and ceremonies. If you take some time to visit some of these and also one or two of the many water-palaces, you will be captivated by their mystical beauty.
Now let's talk next about the beautiful scenery, the beaches and the world-class surf.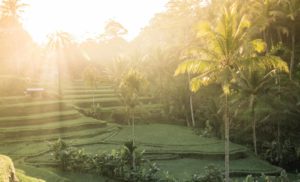 Bali is an island of lush mountains, active and inactive volcanos and many rivers: Some of the mountains in Bali are over 3000m high. Rainforests, 4 large lakes, National Parks and the UNESCO protected rice-fields make up much of the north of the island.
Given that it only takes about 3 hours to drive from the very south of Bali to the most northern tip, all areas of this magnificent island are possible to visit during your Bali surf vacation.
Bali also has hundreds of miles of magnificent beaches. Because of the fertile volcanic regions, those beaches to the North of the island are darker sand, with the sand becoming more white the further south you travel: On the Bukit Peninsula, where we are, the sand is really white. Snorkelling and diving around the island is as good as you will find anywhere in the world and it's one of the most popular places in the world for people to take their PADI diving courses or Freediving certification.
Learn to surf in Bali
Surf seasons
Because of Bali's location, the west coast (where we are) is the recipient of some of the world's best-surfing waves. Swells travel for thousands of miles across the Indian Ocean and by the time they reach Bali, they have formed into perfect sets of waves with just the right interval between each wave (*surfer-talk-alert*: The longer the second interval is between waves, the 'cleaner' the wave is and Bali's interval tends to average around 18 seconds).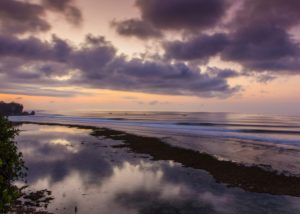 From April to November, the west coast gets swell after swell; these are the months with the biggest waves. After November/December, the wind, which is off-shore from April to Nov, shifts onshore and the surf gets better on the East coast, a short drive away (*surfer-talk-alert2*: Off-shore winds are better for waves).
Waves tend to be smaller between October and April.
Weather-wise, Bali is in 'Winter' June to October and at its driest. Nov to March is 'summer' and as a result wetter, but the surf keeps pumping and the sun still shines often.
Day time air temps are more 'comfortable' in 'high season' (April to October) at around 80°C (about 22°C at night) and in summer, this is more like 90°C (about 26°C at night). Bali's water is warm, especially warm from October to May, but always warm enough so you will not need a wet-suit at any time of the year.
Our tide variations are big meaning that there is often a difference on average of about 1.8 meters water level between low and high tide (on new moon and full moon, this variation is even bigger). For beginner surfers, mid-to high tides are best; the more water that is on the reef, the mellower the wave becomes.
The time of your beginner surf lesson will vary on the high tide times. Sometimes that is early in the morning and other days, it's mid-morning or afternoon; either way, it's usually 2 hours before high tide to 2 hours after.
Learn to surf in Bali
About beginner surf lessons in Bali and the Best Beginner Surf spots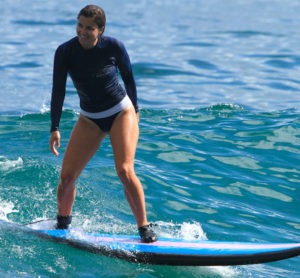 We've got at least 4 beginner surf spots either a short walk from Swell or a short drive away (less than 5 minutes in a vehicle).
Direct from Swell Bali, we've got Bingin's little beginner surf break, just a short walk from our door.
Bingin surf break, previously known for its experts-only, fast, barrelling left-hander, is now becoming known as one of the best places on the west coast of Bali for beginner surf lessons. In the right spot on the right tide, this wave is mellow and reliable for complete beginner surf lessons.
With our partner surf school, your surf lessons could take place at Bingin, Dreamland, or just a short drive away, at Padang Padang, Balangan or Thomas Beach, which have more areas of waves suitable for beginners.
Usually, for learning to surf in Bali, our guests at Swell will take lessons with a surf school who travels each day to the best spot, depending on tides and the size of swell.
From December to March ('wet' season), our partner surf schools will often take you over to Nusa Dua, Green Bowl, Keramas and Serangan, which all have good beginner and intermediate breaks.
As a complete beginner surfer, you just need the white water and reform waves which are perfect for getting up for the first few times and learning how to stand when the board is being pushed along by the force of the wave.
As you progress, you'll be learning how to 'turn' the surfboard and also trying to get into waist to shoulder height 'green/unbroken' waves.
Things to watch out for as a beginner surfer in Bali:
Never go into the water alone
Be careful of too-low a tide to avoid injury
Be with an instructor who can show you a safe entry and exit point to the water
Don't over-do it; surfing is exhausting and people can quickly get into trouble when they lose their paddle strength – 2 hours of surf lessons is more than enough for one day if you are paddling, and putting in the effort required.
Things you will need for your beginner surf lessons:
A very good, waterproof sunscreen, at least spf30. Look for a special 'sports' sunscreen as they tend not to 'leak' into the eyes
Well-fitting swim-suit, board shorts or bikini
Think about wearing leggings to protect yourself from surfboard rash (very common with beginner surf lessons). Many cool surf brands make them and they also offer good spf50 sun protection.
Your Bali surf school should provide:
A surfboard
Wax
A leash
A rash guard (long-sleeved waterproof top)
Surf booties
About Intermediate surf lessons in Bali and the Best Intermediate Surf spots
Let's define the word 'intermediate'. A lot of people will call themselves an intermediate surfer because they have completed a couple of surf camps before. A better way to establish your surf level though is to look at what you are able to do competently on a surfboard. If you can catch shoulder to head high unbroken waves alone, are able to paddle strongly and are able to make top and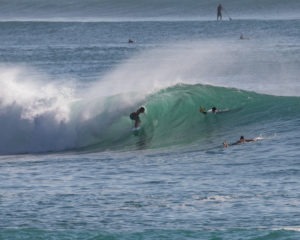 bottom turns on the surfboard, then we would call you an intermediate surfer.
If not, but you have taken several surf lessons or camps previously, then we would call you a novice surfer and the right place to be for your next lessons is in the 'beginner' category: But, don't worry, no good surf instructor will ever hold you back from progression; if you can get into the green waves straight away, they will encourage you to do so. But for the purposes of this article and for safety reasons, we are aiming at the real intermediates in these next paragraphs.
Dreamland, which is a short walk or paddle from Swell Bali and Bingin, is a great intermediate wave. It looks more intimidating than it is as the wall coming towards you might make you think it's going to be a steep take-off, but actually, the wave when it breaks is a gentle forgiving shape and it's a gentle glide in.
There are both lefts and rights at Dreamland.
Likewise, Bingin too, on the higher tide and a smaller swell, is a perfect intermediate wave. Impossibles, a 10 minute paddle east of Bingin, is also a great intermediate, left-handed wave on a smaller swell, with long rides possible after a gentle take-off. Padang Padang reached by a longer paddle or a short scooter ride is an intermediate surfer's dream with perfect lefts and rights available.
In the wet season (Dec to March), Nusa Dua, Green Bowl, Keramas and Serangan all have good intermediate level breaks and your surf school will automatically switch to that side of the island if the winds determine it's the right call.
Things to watch out for as an intermediate surfer in Bali:
Always know the tides and whether the tide is incoming or outgoing
Be careful of too-low a tide to avoid injury
Make sure that you have advice on where to safely enter and exit the water
Check for local hazards, such as protruding rocks just below the surface of the water
Make sure you know where the rip currents are on any beach
Surf Guiding in Bali
If you don't need lessons but want to take a guide with you to avoid some of the hazards we have just listed above, then a good surf guide is essential if you don't already know the breaks well. Surfing with a guide can also increase your wave count hugely; apart from keeping you away from hazards, these local guides just know everything about Bali's waves: What tide to go on, where to sit for the best chance of catching waves and can even make sure that you get a fair share of waves in a busy line up.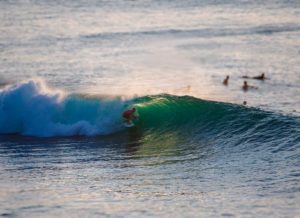 At Swell Bali surf camp , we have a whole bunch of trusted guides who we know do a great job with the people they are looking after. Some of these guides have their own boats so your surf adventure can start the way an ideal surf trip should, by jumping off a boat and onto your board in the water.
Some of the guides we work with are renowned to be the best surfers on the island and have won some of the local competitions at Padang Padang Bingin and Uluwatu against international pro surfers.
All of our guides know Bali's waves inside out and are superb surfers themselves. We highly recommend paying for a guide if you are not familiar with Bali's surf breaks; we promise you will get more waves with these guys on your side!
The best surfers on the island are a must to be with if you are an expert surfer who wants to work on a particular aspect of your surfing; maybe you want to learn how to do get barrels or work on your bottom turns. It does not get better than being with these amazing surfers in the water.
We do hope that this article convinces you to choose to come to Bali for your surf holiday, but let's recap:
The friendliest people on the planet
Probably the most number of surf breaks available to suit all levels in the world
Spectacular scenery
White sand beaches and warm, azure water
Culturally interesting with loads to see and do other than surfing
Amazing, good value food, both fantastic local cuisine and also good Western restaurants to choose from
Loads of health and fitness stuff to do, like Yoga, ice baths/steam-rooms and fitness centres
Many daily flights to choose from into Denpasar (DPS) and a pretty short ride to Swell Bali, or your accommodation of choice.
We hope to see you at Swell Bali or in the warm waters of Bali soon, we are walking to distance to Surfing Bingin and Surfing Dreamland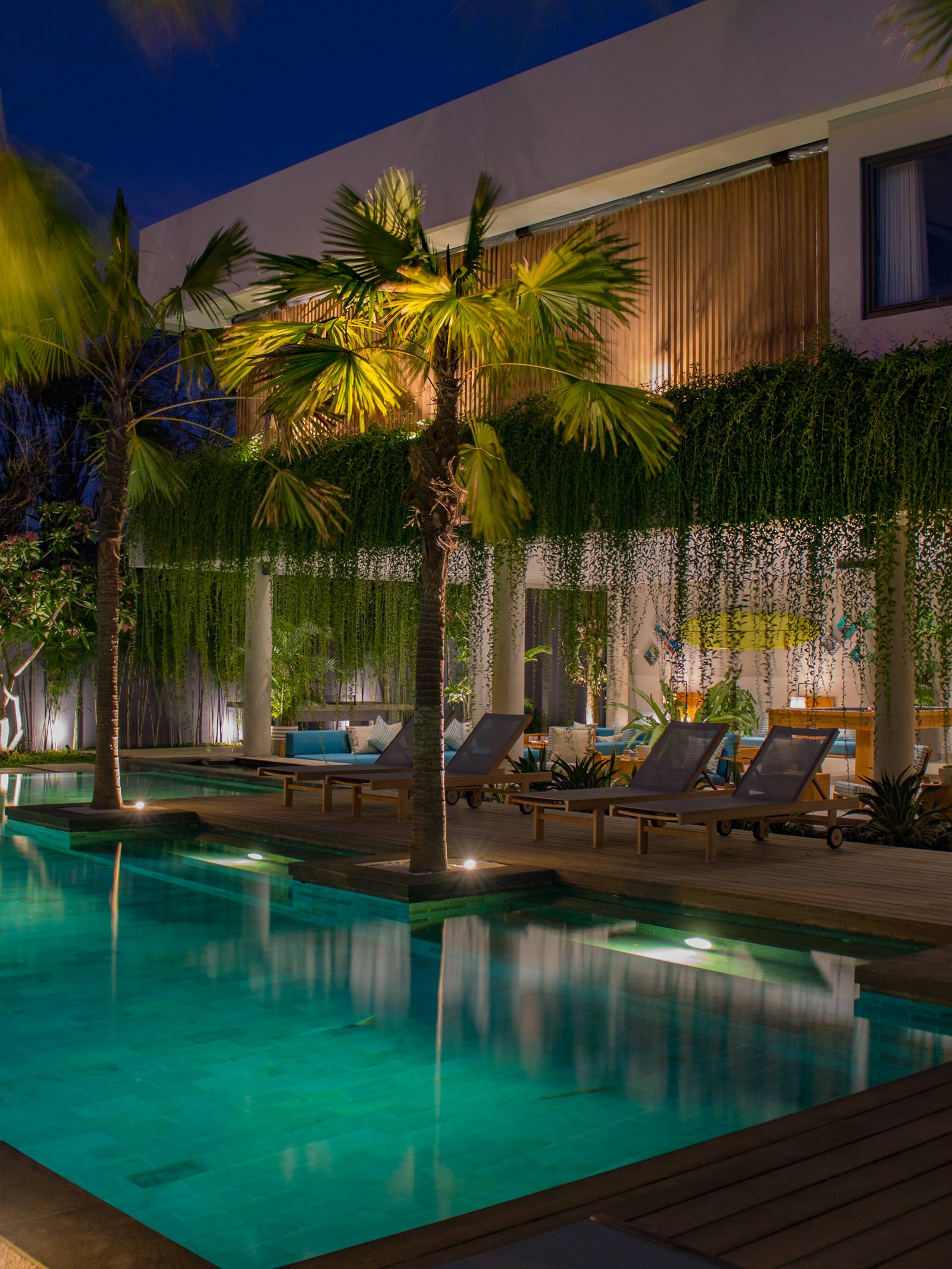 Looking for the ideal Bali Coworking space?