A new, purpose-built surf hotel for adults, right in the center of Bingin, Bali.
A new type of
surf resort

in bali
Our purpose-built Bali surf resort is right in the heart of the popular surf village of Bingin.  
Swell has the look and feel of a boutique hotel retreat, but with the relaxed, social vibe you would find in a surf resort or surf camp in Bali.
In designing our surf hotel from scratch, our thought was to create the perfect surf resort for solo travellers or sociable couples and friends to get together with other surfers.  
At the heart of Swell is a big, airy, open communal area with sunken sofa/fire pit, pool table, games area, huge dining table and a bar.   A ping pong table stands at the end of our massive swimming pool and deck.
And the location of Swell?
Right in the centre of Bingin; we are a genuinely short walk to the surf, beach and great restaurants. 

several different surf spots within walking distance
ideal for solo travelers and friends
We started Swell in the Caribbean in 2009. 
6500+ happy clients later and having been consistently rated the #1 Surf & Yoga holiday in the Caribbean,  we finally found our perfect location for another Swell hotel.
Swell Bali is the ideal set up for solo travellers, sociable couples and groups of friends that want to meet new people on their holiday in Bali.
After all, going out for a drink post-surf is far more fun in a group than by yourself!
On the accommodation page, you can see images of how our new place looks; it's all about chilling in beautiful and comfortable surroundings.
We are located right in the centre of Bingin, with restaurants, beaches, yoga and a fitness centre just steps away!  
stay in comfort and style
Swell Bali offers a unique lodging/holiday experience: We provide high-quality boutique hotel accommodation right in the centre of Bingin, walking distance to Bali's best surf spots.
But Swell Bali is not just about providing a hotel bed for visiting travellers: We are all about providing a social stay in a boutique surf hotel setting.
What does that mean?  Well, we allocated a large part of our building and budget to our huge communal area where our guests can chill, relax, socialise, work, eat and play games.
Our dining table seats 18 people and we provide daily healthy breakfasts, but lunch and dinner meals can also be ordered from the bar. We can cater to vegans, vegetarians and cope with most dietary restrictions.
Swell is the ideal place both for solo travellers and for sociable couples/friends who want to meet other interesting people on their Bali holiday; Play some pool or a game of Ping Pong or Darts or sit at our specially designed games stations for one of the many board games we have at Swell.
Surfing with Swell Bali: We are not a traditional Bali Surf Camp.  We don't only cater to people who want to learn to surf. In fact, Swell Bali is perfect for intermediate and advanced surfers too: Anyone who wants to be social on their Bali surf holiday.  Swell can set you up with surf lessons, advanced surf coaching and or surf guiding catering to your level of surfing.
Have any questions? We'd love to hear from you; send us a message.
gallery swell bali surf retreat
There is no need to hop on a scooter or get into a taxi when you want to surf Bingin, Impossibles or Dreamland beach. Just a short walk to the cliff edge and you can see most of the Bukit's waves on the west coast.
Below are some of the frequently asked questions about Swell Bali, if your question is not answered, send us an
email
, we'll get back to you in no time.
"Even 5 decades after the first surfers discovered Bali as their favorite place to be, it still offers the same magic & perfect waves these days as it did back then"
– Surfers journal magazine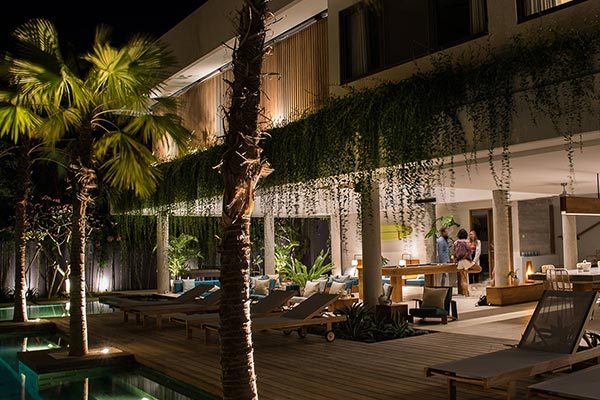 Look at the pictures & see what sets Swell Surf Resort  apart from any other surf resort in Bali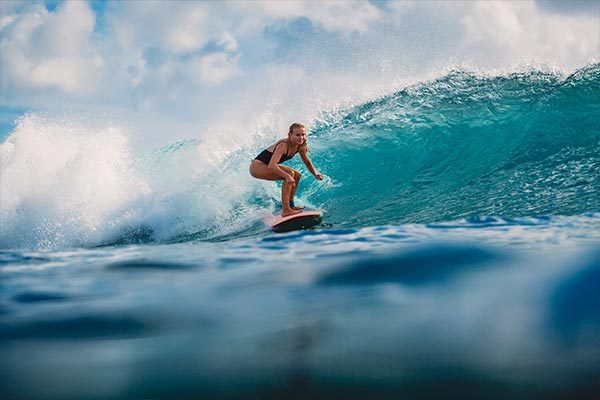 Surf lessons or surf guiding for people that already know how to surf. We got you covered.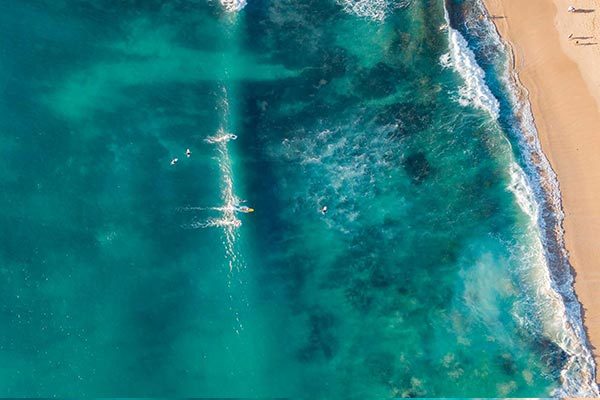 See
where we are
in Bali, how to get here and why Bingin is the ideal base  for a surf trip.