Bingin Surf report
January 24, 2020
Rainy season surf report for Bingin Beach, Dreamland, and Impossibles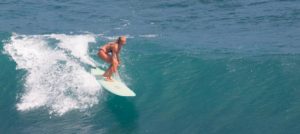 Not much of a rainy season here in Bali so far this year. Temperatures are warm and dry. Light winds today, should even swing offshore later today. Waves are in the head high range at Bingin and provide ideal conditions for learning to surf or intermediates surfers looking to improve their surfing, as the tide gets higher. In a few hours as the tide gets lower should be some good barrels at Bingin for the advanced and expert surfers.
Impossibles was a little overhead with less than a hand full of people out in the lineup.
Uluwatu in the distance showed well overhead waves with glassy surf conditions, should get better on the lower tides.
Contact us via email if you are interested in a Bali Intermediate surf holiday
Waves: 3-5′
Wind: Light onshore to glassy:
Temperature: Warm
Cowdlevels: Very low
Surfing pictures Bingin Dreamland, Impossibles & Uluwatu , Bali
Here's a new Uluwatu surf spot guide for surfing uluwatu
QUICK QUESTIONS
Want to learn to surf in the Caribbean or Bali, contact us. Bali is an ideal location for surfers of all levels. Different surf spots offer different surfing conditions for people of various surfing levels in Bali. Don't think the Bukit is only for hardcore surfers, it's also an ideal location for learning to surf in bali.
We are currently in the process of building our new surf camp/surf hotel right in the center of Bingin. We will be open for the next high season, so if you are looking for your next places to stay on a surf holiday to Bali, have a look at the initial renders.
Located a very short walk to Bingin Beach, so you can surf Bingin , Impossibles and Dreamland without having to take a taxi or rent a scooter. Surfing Uluwatu & Padang Padang is only a 5-7 minute scooter ride away. There is no better-located surf camp in Bali!
Questions
Q: Where are the best beginner surf spots in Bali?
A: Best Bali beginner surf spots can be found in this article >
Q: Where do you surf in Bali in the rainy season?
A: Bali rainy season does not stop the surfing fun, here's a list of some of the best surfing spots in Bali in the rainy season.
Q: Tell about Bali's best surf spots
A: Here's a list of some of Bali's best surfing beaches that are close to Swell Bali. There are waves for beginners, intermediate surf and waves for experts.
More link for Surfing in Bali can be found here: surf