Ultimate Bali Surf Travel Guide
I. Intro
To many travelers, Bali seems too far-flung, too remote, too expensive to get to, and frankly, quite intimidating. Those travelers are sorely mistaken. Bali is more than a mere travel or surf destination, it's the epitome of surf travel, and the standard to which all tropical destinations are measured. Over the years, Bali has become widely accessible to all travelers, making it one of the world's top destinations for surfers and non-surfers alike. For those travelers and surfers who are still unfamiliar with the island, this guide aims to serve as an all-encompassing, virtual chaperone that will turn your Indonesian travel dreams into a reality.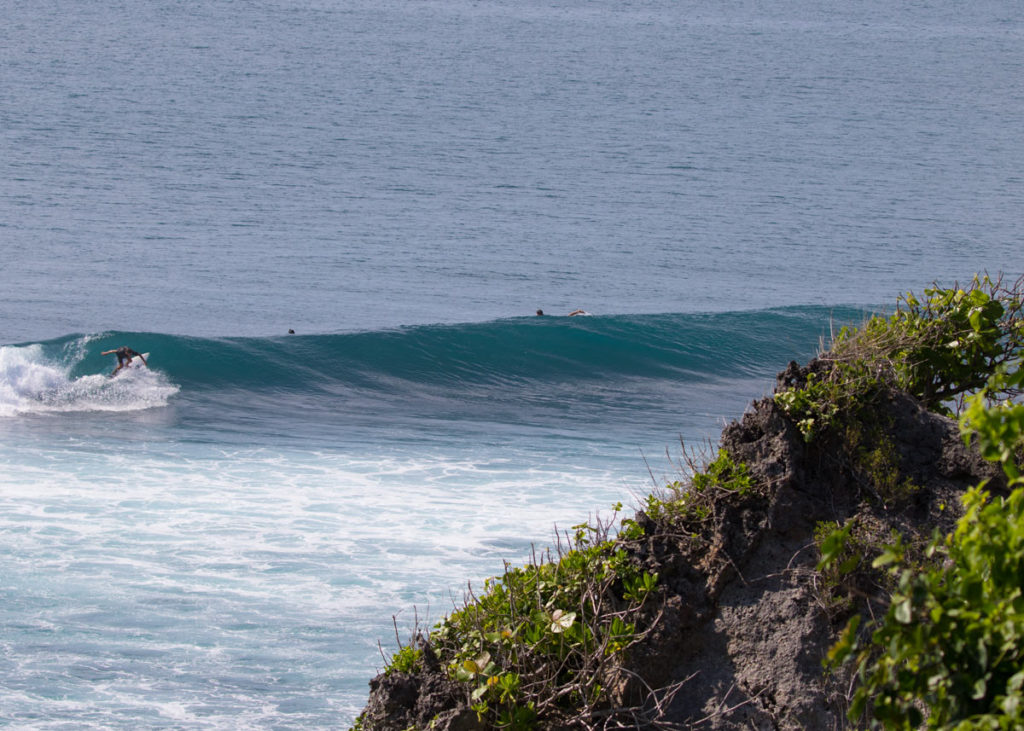 II. About Bali
Bali is one of over 17,000 islands that make up the Indonesian archipelago and the nation of Indonesia. Like the other Indonesian islands, Bali has a unique culture that is rooted in thousands of years of local history, which helps to form the Balinese. While Indonesia is the most Muslim country in the world (has more practicing Muslims than any other country), Bali is a predominately Hindu island. The island is known by many as the Island of the gods for the many temples that call Bali's volcanic landscape home.
III. Getting There
While Bali is remote compared to much of the western world, flights to Bali are plentiful. Ngurah Rai International Airport welcomes 312 flights each day. If you're traveling from the United States or Europe, you'll most likely connect through Singapore. If you're flying from Australia or Asia, there are direct flight options.
Bali's Ngurah Rai International Airport is located in the island's urban capital, Denpasar. Denpasar is centrally located on the island and borders Badung and Gianyar, where most of the island's surf breaks are located.
IV. Getting Around
When it comes to navigating the island, travelers have plenty of options, such as private cars, scooters, tourist buses, and everything in between.
Taxis
Taxis are a great way to get to and from the airport, and home after a night out in Kuta beach. The fares range between $1-2 per kilometer.
Private Driver
Private drivers are widely available for hire for approximately 600,000 RP or $40/ €36. For those willing to pay, private drivers offer a comfortable commute, although they can do little to ease the slow grind of Bali's traffic.
Public Bus
Bali has a few public transportation options for travelers on a shoestring budget. Bemos are large, passenger vans that run on set routes, but they are rarely used by travelers. Most towns have at least one terminal for buses, to get from one part of the island to another typically takes multiple terminal stops.
Tourist Bus
A variety of companies offer daily tourist buses/ shuttles to many popular destinations on the island. Some buses even have WIFI, like those operated by Kura-Kura Bus.
Scooters / Motorbikes/ Rental Cars
Scooters and motorbikes are by far the most popular mode of transportation on the island. Technically, to rent a scooter, car, or motorbike, the law requires you have an international driver's license, although this is rarely enforced. While scooters and motorbikes are widely available to rent for travelers, travelers should exercise extreme caution while navigating Bali's roads and traffic. Rentals cost approximately 60,000Rp a day or 350,000Rp a week.
Bicycles
Many locals and travelers alike choose to travel the island via bicycles, which are also known as sepedas. Bikes are widely available for rent on the island.
V. Regions
For many travelers, choosing where to stay in Bali can be an overwhelming task. The island is 5780 square kilometers and is made up of several distinct regions, each of which possesses separate charms. Bali's touristic areas and popular surf locations are mostly located on the southern part of the island, with just a few exceptions.
North Bali
Northern Bali is far less traveled than the southern areas of the island. In the north, travelers will find the gorgeous black sands of Lovina Beach, a quiet alternative to Kuta or Seminyak, as well as the remains of Dutch Imperialism in the former capital.
East Bali
Bali's eastern area is the most mountainous region on the island and contains the highest point in all of Bali, Gunung Agung. The area is home to many noteworthy temples, such as The Mother Temple of Bali and the Besakih Temple. The eastern coastline, just north of typical tourist destinations near Tenganan, is littered with beautiful beaches perfect for relaxing and snorkeling.
Central Bali
Central Bali contains Ubud, which is internationally recognized for its art. Puri Lukisan Museum (The Palace of Fine Arts) and Museum Neka both house stunning collections of Balinese artwork. Further south in Celuk, travelers can shop for finely crafted jewelry.
West Bali
West Bali is not as popular as the tourist areas that lie just to the south, but for those who venture to the west find abundant wildlife in Bali Barat National Park.
South Bali
South Bali is the heart of Bali's tourism industry and contains popular destinations such as Canggu, Kuta, Legian, and Seminyak, each of which has its own vibrant personality. Seminyak and Kuta are bustling resort areas with plenty of options for lodging, shopping, and dining.
The Bukit Peninsula, home to the famous Uluwatu cliffs and waves like Padang Padang, Uluwatu, and impossibles is also in South Bali.
On the other side of the Bukit Peninsula, still in the southern part of the island, are Nusa Dua, Sanur, and Benoa, each of which contains fun surf.
VI. Language & Cultural Tips
 Language
The typical traveler in Bali will have no trouble getting by with English. English is spoken widely on the island, at least at a basic level. If, however, you want to fully immerse yourself in Balinese culture, below are a few phrases to help you get by like a local. This Bali Surf Travel guide would be rather long if we really wanted to teach you Balinese or Indonesian. Try to pick up a dictionary, or try an free language  app like Duolingo, which is a great way to learn Indonesian . The locals will appreciate it if you speak a few words.
Om Swastiastu – A polite greeting
Selamat datang – Welcome
Matur suksma/ Terima Kasih  – Thank you
Dija?/ Di Mana?  – Where?
Nyak/Nggih / Ja – Yes
Etiquette 
While Indonesian culture is typically seen as relaxed, especially in Bali, there are a few steps travelers can take to ensure they stay respectful during their stay.
While in temples or other places of worship, dress modestly, be respectful, and remove your shoes before entering.
When roaming the streets in Bali, avoid showing excessive amounts of skin. The Balinese typically dress modestly.
Always ask permission to take someone's photo.
VII. The Food
Balinese cuisine may bring as many travelers to the island as does Bali's world-class surf. The beauty of Balinese food is that it can be thoroughly enjoyed on any budget. Dinning in one of Bali's many note-worthy warungs (small, local café) may be as enjoyable as a night out at one of Bali's upscale restaurants. Balinese cooking is a labor of love. When done properly, a meal can take multiple hours to prepare. Thankfully, it does not take nearly as long to consume.
Bali's cuisine is notoriously diverse, each dish contains a multitude of flavors woven together in perfect harmony. Following the Ayurveda tradition, each meal should contain six flavors (sweet, sour, spicy, salty, bitter and astringent). The total combination of the six varied tastes is meant to provide both a balanced diet and a fulfilling flavor experience. Many of Bali's classic dishes contain ginger, chili, coconut, which are all staples of classic Balinese flavor. Some classic Balinese dishes include Chicken Satay, Babi Guling, and Betutu. Many Bali dishes are also topped with a flavorful, yet spicy, Sambal.
VIII.  Bali Surf Travel Guide – The Surf
Bali's world-class surf may no longer be the secret it once was, but navigating the island's many world-class breaks still requires a bit of know-how. For better or worse, Bali's main surfing zones happen to coincide with the most populous travel areas in the southern part of the island.
Canggu
Canggu has a healthy mix of beginner-friendly beach breaks, submerged reefs, and point breaks. The waves in Canggu pack more of a punch than those in beginner-friendly areas of Seminyak and Kuta, but they do not compare to the waves of the Bukit Peninsula in sheer ferociousness.
Kuta / Seminyak
Kuta and Seminyak are the more traditional tourist zones of Bali, and they have the beginner waves to suit their demographic of travelers. However, there are still fun waves to be had for serious surfers, such as the break at Kuta reef.
The Bukit
Home to the seminal Balinese surf breaks, such as Uluwatu, Padang Padang, Impossibles, Bingin and more, the Bukit Peninsula attracts the best surfers in the world each year. A stay at our Bali  surf hotel / Bali surf camp, Swell Bali, will put you right in the heart of Bali surf and surf culture. The Bukit's waves are world-famous for a reason, they are, without a doubt, as picture-perfect as they look in the magazines. One good wave at any of the world-class breaks on the Bukit Peninsula is worth far more than the cost of airfare to get there.
The East Coast
Bali's East coast has plenty to write home about, such as the World Tour worthy waves at Keramas. Other notable east coast waves include the world-famous rights of Nusa Dua, Sanur, and Shipwrecks on nearby Nusa Lembongan.
IX. Bali Surf Travel Guide – Seasons
Bali's equatorial proximity gives the island two distinct seasons (Rainy/Monsoon Season & Dry Season), rather than the four seasons many are accustomed to (winter, spring, summer, and fall). Monsoon season falls between October and April, while dry season occurs from May to September. Traveling in Bali during the monsoon season is not nearly as chaotic as it sounds. The monsoon season still experiences plenty of the sunny, paradisiacal weather that Bali is known for, just with the occasional downpour.
1. Everything Else
Currency & Money
The Indonesian currency is known as the Rupiah (Rp). The most coinvent way to get money in Bali is through an ATM, but make sure your bank at home won't charge you an outrageous foreign transaction fee. Although there are plenty of places to exchange currency around Bali, it is best to shop around for the best rate. Not all exchange venues honor the true exchange rate. Card skimming is an issue in Bali, so it is best to use ATMs attached to banks. ATMs have stickers noting whether they dispense 50,000Rp notes or 100,000Rp notes. Small bills can be useful.
Visa Requirements
Indonesia visa requirments are based on passport/ nationality.
Over 160 nationalities do not require a Visa and have free entry.
Free entry stamps cannot be extended
Passports must be valid for at least 6 months from the day of arrival.
Max stay is 30 days with free entry on a tourist visa.
The Penalty fee for overstaying IDR 1,000,000 per day.
Vaccinations
Before traveling to Bali, please consult your doctor to see which vaccinations you may need. Most likely, your doctor will issue vaccinations for the following:
tetanus (single booster)
hepatitis A
typhoid
rabies
Yellow Fever is the only vaccination required by international regulation.
Equipment Hire
Traveling with a surfboard can be a pricey and risky endeavor. Fortunately, there are plenty of surf shops on Bali that carry top of the line surfboards from the world's best shapers. Find a board to rent through a shop or use AwayCo to reserve a top of the line model prior to your stay. Many travelers choose to buy a board and sell it before they leave, rather they travel with one.